Subsidy in gas sector to rise if price not adjusted
Says state minister for power, adds it could cost govt Tk 7,000 crore per year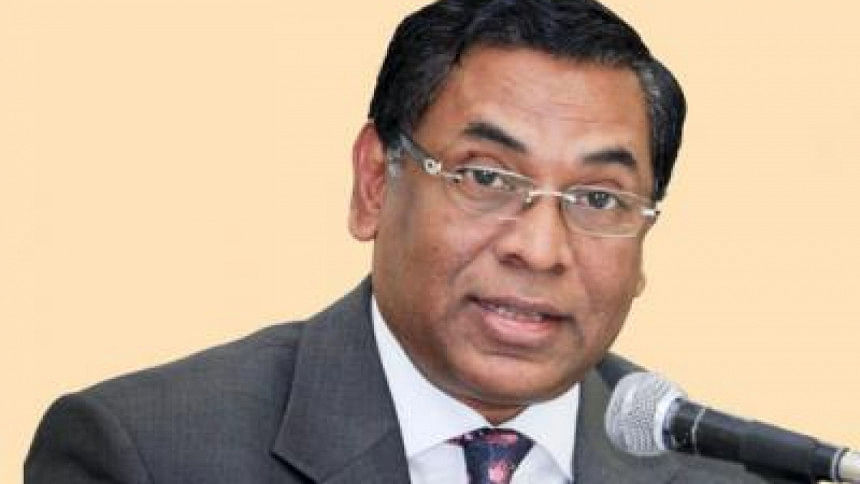 State Minister for Power and Energy Nasrul Hamid yesterday insisted on increasing gas price, to reduce the burden of subsidy in the sector, which now stands at Tk 5,000-6,000 crore a year.
"We have to adjust gas prices, and we are saying that again and again," he said while briefing reporters at the secretariat about the latest situation in the power and energy sector.
In March, the government sent a proposal to Bangladesh Energy Regulatory Commission (BERC) to increase gas price, and it was now up to the commission to make a decision, he added. 
The government started importing liquefied natural gas (LNG) in August last year in the face of falling domestic production.
Since then, the government has spent Tk 14,000 crore to subsidise the import, he said, adding that the price of imported gas was much higher than that produced locally.
"If we do not adjust the price, we have to provide subsidy for the additional cost. Even after the adjustment, we will have to subsidise it," he said.
Gas production cost stands at Tk 14 per cubic metre, after the imported LNG is mixed with the locally produced gas. At the moment, the government sells it at Tk 7.17.
Responding to a question, Hamid said the subsidy cost would rise to Tk 7,000 to Tk 8,000 crore in coming years, if the price was not adjusted.
On March 11, state-run Petrobangla and its six distribution companies -- Titas, Bakhrabad, Jalalabad, Pashchimanchal, Karnaphuli, and Sundarban -- proposed hiking the price of gas to Tk 12.19 per cubic metre. But it was rejected following fierce resistance by consumers and experts, who said it would hit the economy, make businesses uncompetitive and fuel inflation.
Meanwhile on March 31, the High Court in response to a petition filed challenging the legality of the public hearing, remarked there would have been no need to increase gas prices even if half of the corruption in Petrobangla and Titas was reduced.
The court had also asked why Bangladesh should purchase the gas for $10 while India purchased the same quantity for $6.
The HC bench of Justice FRM Nazmul Ahasan and Justice KM Kamrul Kader had also asked the BERC to submit a report about gas price before it.
"There is no legal scope for increasing gas price at the moment as the BERC cannot raise prices twice in a single fiscal year under the law," M Shamsul Alam, energy adviser to the Consumer Association of Bangladesh, said at the time.
The energy regulator then hinted that it might raise the price at a rate lower than that proposed by the distributors.