Animal waste to be cleaned in 24hrs: Khokon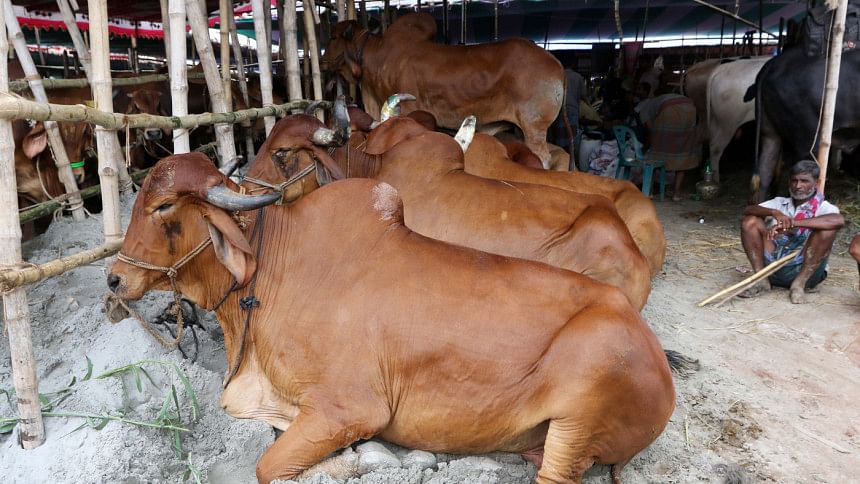 Dhaka South City Corporation (DSCC) Mayor Sayeed Khokon today asked the concerned employees of the city corporation to remove the waste of sacrificial animals within 24 hours of the day of Eid-ul-Azha.
Khokon came up with the directives during a meeting with the waste management committee members held at Nagar Bhaban in Dhaka.
Meanwhile, the government has fixed 2,954 venues in 11 city corporations of the country for slaughtering sacrificial animals during Eid-ul-Azha, to facilitate fast and efficient disposal of blood and waste.
A total of 620 spots have been fixed for Dhaka South City Corporation (DSCC), 543 for Dhaka North City Corporation (DNCC), 210 for Rajshahi city, 314 for Chittagong, 163 for Khulna, 135 for Barisal, 36 for Sylhet, 183 for Narayanganj, 190 for Comilla, 117 for Rangpur, and 443 for Gazipur.
During the meeting today, Mayor Sayeed Khokon urged city dwellers to sacrifice their animals at the designated places discoursing them not to sacrifice animals at open spaces or in front of houses.
Nearly three lakh cattle will be sacrificed in the city corporation this Eid-ul-Azha, he said, adding that if city dwellers sacrificed their animals in the designated places, the management committee members will be able to remove the waste of animals soon.
Nearly 25000-26000 tonnes of waste are produced from sacrificial animals under the city corporation but it is very challenging for the corporations to clean the waste quickly, said the DSCC mayor.
Speaking at a programme in Dhaka on August 16, Sayeed Khokon said, "We have been campaigning for three years to encourage people to sacrifice their animals at the designated places but we did not get good response."
Campaigns have already started this year like before, he added on the day.