Govt allows rawhide export this year as well
Price fixing meeting today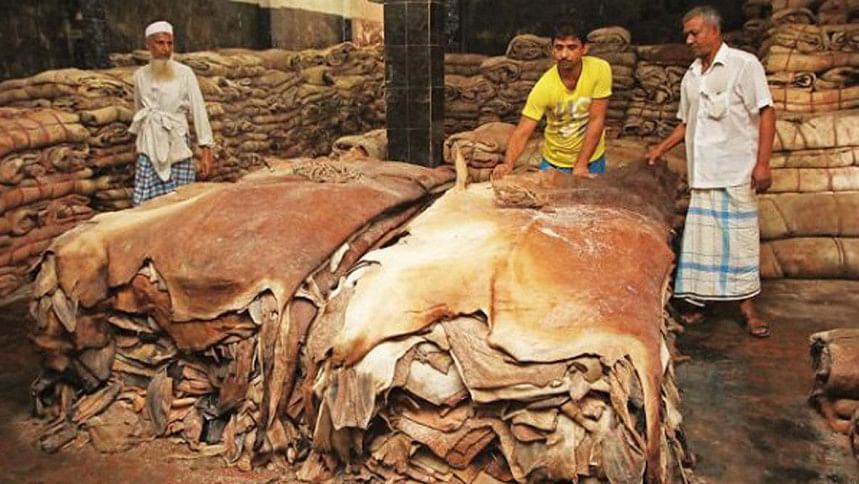 Like previous years, the government has been approving applications of different companies seeking to export rawhide to create demand and enable better prices, said Tapan Kanti Ghosh, senior secretary to the commerce ministry, yesterday. 
Last year, the government allowed 14 companies to export 2.30 crore square feet of rawhide, he told The Daily Star over the phone.
However, just around 1 crore square feet of rawhide could be exported so far, meaning that the full potential of the shipment quantity could not be utilised, he said.
Last year, the government allowed 14 companies to export 2.30 crore square feet of rawhide
The senior secretary also said the commerce ministry was allowing export of nearly 60 lakh square feet of rawhide by an almost similar number of companies this year.
The commerce ministry is also scheduled to fix prices of rawhides of the sacrificial animals in a meeting with the tanners and other associated traders at the ministry office in Dhaka today.
Ghosh suggested not to bring all the rawhide from outside of Dhaka to Savar Tannery Industrial Estate (STIE) in the 10 days following Eid-ul-Azha so as to reduce pressure stemming from processing rawhides on the STIE's central effluent treatment plant.
The inflow of rawhides from all over the country, be it on a single day or a single week, is so high that the plant cannot bear the load. Failing to get processed on time, a lot of the rawhides get damaged.
Ghosh also said a rawhide can be preserved for at least two months if salt was applied.
If local collectors apply salt on the rawhides, they can preserve it for a few days and they will also get better prices from tanners once demand rises, he added.
Local rawhide traders can also take the help of the Bangladesh Small and Cottage Industries Corporation in preserving rawhides and thereby get better prices, he said.
The government has been allowing export of rawhide from sacrificial animals over the last three years to create demand so that the valuable goods do not end up being discarded for a lack of good prices.
Over the last couple years, thousands of pieces of rawhides of sacrificial animals were discarded across the country after seasonal traders failed to ensure adequate prices.
Eid accounts for some 50 per cent of the rawhides the country generates in a year.