Cattle Transportation to Dhaka: Ferry disruption major concern
Traders may face delay, higher cost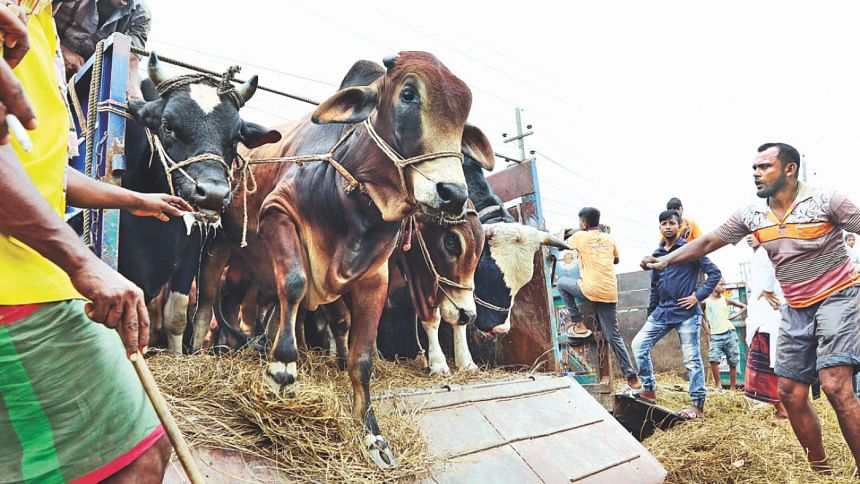 Despite having an adequate stock, farmers and traders are worried about being able to supply enough sacrificial animals to the major cities, particularly Dhaka, ahead of Eid-ul-Azha due to tailbacks at ferry terminals.
Poor navigability in the Padma has hit hard the ferry service on Shimulia-Kathalabari route in Munshiganj-Shariatpur. This is one of the two major ferry routes connecting the capital with South and Southwest districts.
A total of eight ferries have been transporting about 1,200 vehicles daily since August 11, down from 3,000 vehicles by 20 ferries. Only the small ferries are transporting light vehicles to and from Dhaka, said officials of Bangladesh Inland Water Transport Corporation (BIWTC).
Trucks carrying cattle have been rerouted as large ferries cannot operate at Shimulia point, said Shah Khaled Newaz, BIWTC assistant general manager at Shimulia Ferry Terminal.
As a consequence, the two other ferry routes to the capital have been seeing an increased number of vehicles.
Many cattle-laden trucks bound for Dhaka and other eastern districts have to use either Daulatdia-Paturia route in the Padma or Shariatpur-Chandpur route in the Meghna. This eats up time and also increases tailbacks at the ferry terminals.
The number of vehicles at Harinaghat ferry terminal on the Shariatpur-Chandpur route almost doubled this week as many cattle-laden trucks lined up there after failing to cross the Padma via Shimulia-Kathalabari point, reports our Chandpur correspondent.
Mohammad Imran Hossain, president of Bangladesh Dairy Farmers Association (BDFA), said the traffic situation on many highways and ferry terminals have already worsened. "It is taking almost 24 hours for a truck to travel to Dhaka from Kushtia, a major cattle farming zone."
He expressed fear that the situation might get worse once the holidaymakers start leaving the capital for village homes to celebrate Eid on August 22.
"It will be a disaster for us if sacrificial animals remain stuck on the highways and the buyers in cities like Dhaka pay high prices for cattle due to poor supply."
Imran believes that the country has an adequate stock of animals to observe this year's religious festival.
There would be a win-win situation for both the cattle farmers and buyers this year if the traffic situation remains normal, he said.
Mohammad Imran Imu, who rears cows in Nilphamari's Saidpur, said he sent 24 bulls to Dhaka on a truck four days ago and it took about 28 hours, nearly double the usual time, for the vehicle to reach the capital.
He said the truck had to move slowly on the highway due to tailbacks and checks by police.
Imran plans to send the second batch of cattle to Dhaka today.
Robiul Alam, secretary general of Bangladesh Meat Merchants Association, said transporting cattle from suburbs and farming regions to Dhaka and other big cities would be a major problem this year due to increased checking of documents and driving licences by the law enforcement agencies.
Rustom Ali Khan, general secretary of Bangladesh Truck-Covered Van Owners Association, said they were facing problem in transporting sacrificial animals and Eid commodities to the capital due to disruption in ferry service on Shimulia-Kathalbari route. 
Nearly half of the Dhaka-bound vehicles from the South and Southwest districts use the route, he told The Daily Star.
According to him, truck charges have already increased.
The Eid-ul-Azha accounts for half of about 2 crore animals slaughtered annually in the country, providing the key raw materials for the export oriented leather and footwear industries.
According to statistics of Department of Livestock (DLS), the country has 1.15 crore animals, including 44.57 lakh bulls and buffaloes that can be sacrificed during the Eid.
Some 10.79 lakh cattle were brought through corridors at different borders between Bangladesh and its neighbours in 2017-18 fiscal year, up 28 percent from a year ago, according to data of the National Board of Revenue.
Traders last month brought 63,000 animals from neighbouring countries. 
ABM Khaleduzzaman, assistant director of DLS, said about 1.10 crore cattle would be slaughtered during the upcoming Eid, up from 1.04 crore the previous year.
He hoped the demand for this year's Eid would be met with locally reared cattle.
Kazi Wakil Nawaz, secretary of Bangladesh Inland Water Transport Authority (BIWTA), said they were trying their level best to ease the navigability problem at Shimulia.
Four dredgers were working at the channel, but the BIWTA was not getting expected results as the silt could not be removed properly due to frequent changes in the river's current, he said.