Illegal and thriving
Makeshift cattle markets mushroom; authorities pin responsibility on each other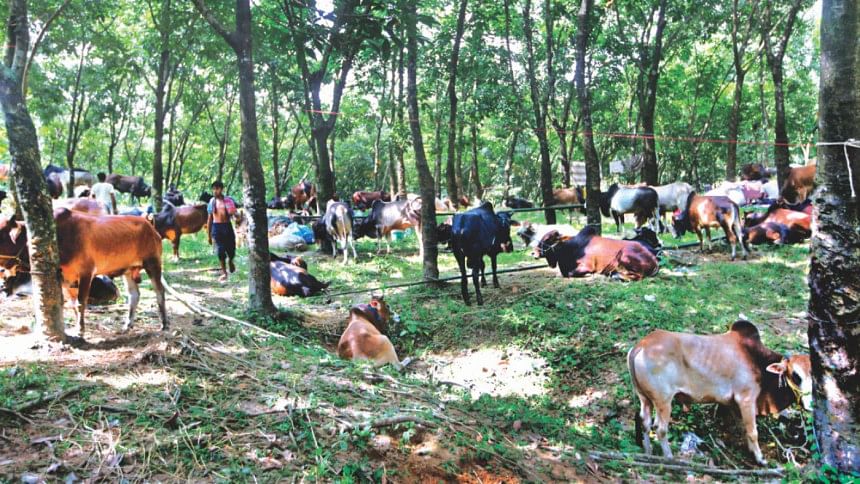 Like previous years, designated spots have been allotted for cattle markets in Sylhet ahead of Eid-ul-Azha this year, and apart from those, no other spots are allowed for selling sacrificial animals.
But just like previous years, with Eid knocking on the door, dozens of makeshift cattle markets have sprung up. Some of those are being set up right under the authorities' nose, alleged many locals.
Though the district administration (DA), Sylhet City Corporation (SCC), Sylhet Metropolitan Police (SMP) and upazila parishad have taken steps in this regard, the illegal markets continue to sell cattle under the patronage of influential locals, including the ruling party men, they added.
This scenario surrounding Eid is not uncommon or unheard of. But what makes this year's circumstances unique is the fact that the authorities concerned are continuing to pin the responsibility of shutting down the illegal markets on each other.
And the complication does not end there.
As re-elected SCC Mayor Ariful Haque Choudhury is yet to rejoin his office at Nagar Bhaban and the new chief executive officer is yet to take charge, there are no higher authorities in the city to look into the matter.
As a result, the illegal markets continue to thrive.
PERMITTED CATTLE MARKETS
SMP on Thursday circulated a notice listing 12 cattle markets under its six police stations in the city.
Those are Kazirbazar, Shiberbazar, Kurirgaon, Sahebbazar, Lalabazar, Kamalbazar, Jalalpur, Hajiganj, Rakhalganj and three others, said Md Abdul Wahab, additional deputy commissioner of SMP. He said law enforcers will also set up booths at every legal market for monitoring.
In Sadar upazila, there are four permitted cattle markets in the surrounding areas of the city. Those are at Barshala Temukhi field, Pirer Bazar, Khadimpara union parishad field and Evergreen City field at Tultikor, said UNO Sirajam Munira.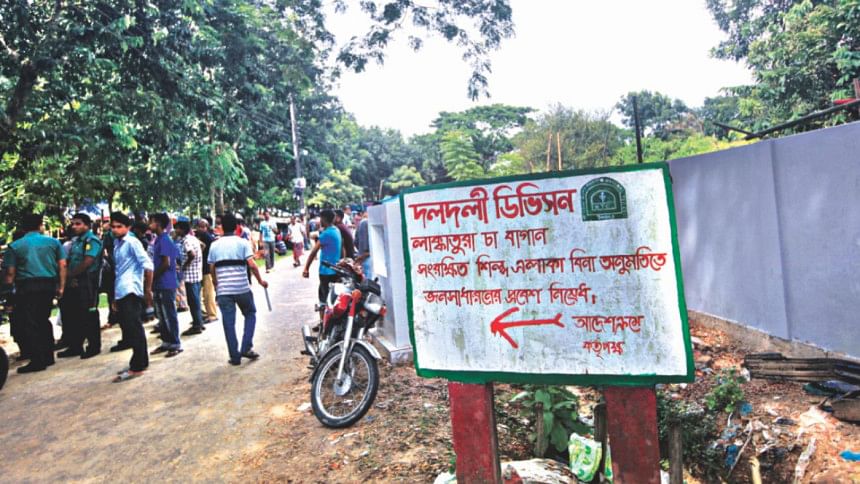 ILLEGAL MARKETS THRIVING
In Sylhet city, Kazirbazar is a well known cattle market where livestock are sold round the year. It has also been a preferred choice for many dwellers for purchasing sacrificial animals ahead of Eid.
But with illegal markets mushrooming, many traders are facing problems.
Shahadat Hossain Lulon, manager of Kazirbazar cattle market, alleged, "We are getting less number of cattle as people behind the illegal markets are forcing the traders to sell livestock at their markets."
"The buyers get affected too as the price goes up due to a shortage of cattle in the permitted market."
Several illegal haats (markets) are being set up in Shahi Eidgah, Tilagarh, Rikabibazar, Chowkidekhi, Akhalia, Ghasitula, Mendibagh, Uposohor, Teroratan, Dakshin Surma, Kadamtali, Bagbari, Malnichhara, and some others areas.
Though Shahi Eidgah playground had been turned into a permitted cattle market during Eid, this year, it was not leased out.
But some influential locals had set up a makeshift market nearby, that too on the land of Daldali Tea Garden, a subsidiary garden of Lakkatora Tea Garden. The garden is under management of National Tea Company Limited.
Yesterday afternoon, Sylhet Sadar upazila administration evicted the market. UNO Sirajam Munira led the drive with the help of SMP.
Many traders alleged that Asfaque Ahmed, Sylhet Sadar upazila chairman and vice-president of Sylhet district unit of AL, was behind the market.
When asked, Asfaque denied the allegation. He said, "Some officials with the help of garden workers had set up the illegal market."
Meanwhile, during a recent visit to Tilagarh area, this correspondent saw a cattle market already up and running on a field beside Sylhet-Tamabil highway.
Some traders alleged that the market is set up with a local councillor's support. Councillor Azadur Rahman Azad is also education affairs secretary of Sylhet city unit Awami League.
Azad did not pick up his phone despite repeated attempts.
Meanwhile, many alleged that makeshift markets in Housing Estate and Darshan Dewri areas are set up under the patronage of Shafiul Alam Nadel, organising secretary of Sylhet city unit Awami League.
Contacted, Nadel said he is not involved in any sort of illegal activity. "Illegal markets are not allowed. The administration along with police is strict in this regard."
WHOSE RESPONSIBILITY IS IT?
With illegal cattle markets thriving, the authorities continue to demarcate their jurisdiction and put responsibility on the other's shoulder when it comes to taking action.
Mohammad Abdullah, additional deputy commissioner (revenue) of Sylhet, said the DA has permitted 22 cattle markets in different upazilas of the district except for the city. "We will take actions if any illegal market is set up in those areas."
"But SCC is the responsible authority of the city. They can request the district administration to take actions against any specific illegal market and police will join the drive, if asked," he added.
Meanwhile, SMP said the drive against illegal cattle markets is the DA's responsibility.
"Such drive should be conducted by executive magistrates of the administration. If they request, police will help them," said Abdul Wahab, additional deputy commissioner (media) of SMP.
As the mayor and new CEO are yet to take charges, in Sylhet city, acting CEO Md Zakaria is in charge of the operation.
Zakaria, also deputy director of the local government department, could not be reached for comments as his phone was found switched off for the last two days.