Khaleda denied bail in Comilla murder case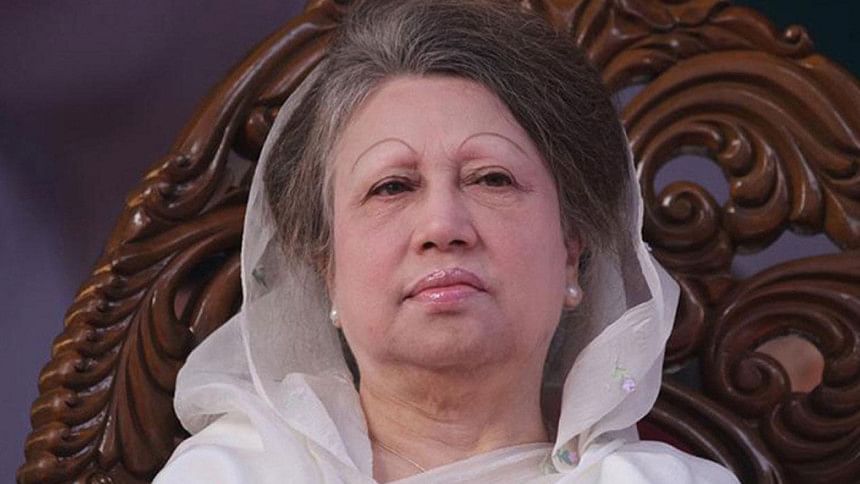 The High Court today rejected a bail petition filed by BNP Chairperson Khaleda Zia in a murder case lodged in Comilla in 2015.
The bench of Justice AKM Asaduzzaman and Justice SM Mozibur Rahman rejected the petition considering that it (bail petition) was not placed before the bench, as her lawyer Advocate AJ Mohammad Ali prayed for such an order.
Khaleda Zia's bail petition has been "not pressed rejected" which means that she did not get bail in the murder case, Attorney General Mahbubey Alam told The Daily Star.
Advocate Masud Rana, a lawyer for Khaleda, told this correspondent that Advocate AJ Mohammad Ali prayed to the HC to reject the bail petition of Khaleda Zia considering that the petition was not placed before the bench, as a fresh petition will be moved before the court concerned in Comilla for her bail in the case.
The case was filed on charge of killing eight people and injuring 25-26 others by torching a bus in Comilla's Chouddagram on February 2, 2015.
Following the bail petition filed by Khaleda, the HC on May 28 this year granted six months' bail to Khaleda in this case and issued a rule asking the government to explain why Khaleda should not be granted permanent bail in this case.
Following a government petition, the Supreme Court's chamber judge on May 31 stayed the HC order of bail to Khaleda Zia.
Later, the Appellate Division of the SC extended its chamber judge's order.
On July 2, the apex court extended the stay order and asked the HC to hear and dispose of the rule over the bail in four weeks.