Bus franchising system: New law on cards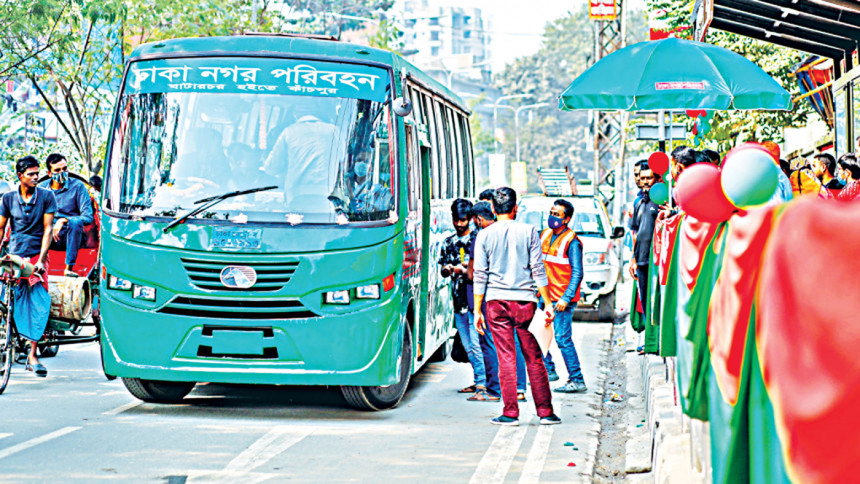 The government is going to formulate a new law to regulate bus service using the franchise system, which is expected to bring discipline in Dhaka's public transport sector.
Under the system, buses of all companies in a particular zone or line will have to run under a single company, and the revenue is shared among all companies.
Dhaka Transport Coordination Authority (DTCA), under Road Transport and Highways Division, has taken the initiative to enact the law. A pilot project for the franchise system already kicked off in the city last year.
DTCA has already prepared a draft of the act and forwarded it to the division, which has convened a meeting on March 27 over the issue.
Representatives of different agencies under the division were asked to participate in the meeting over the draft of "Bus Transport Service Operation and Special Rights (Route Franchise) Act", officials said.
Neelima Akhter, executive director of DTCA, said several meetings will have to be held to finalise the draft.
The franchise system will ensure that bus drivers do not engage in unhealthy competition for more passengers, which is a major reason behind accidents and traffic congestion.
Although the issue of bus route rationalisation and introduction of franchise system has long been in discussions, it got momentum when late Dhaka North City Corporation Mayor Annisul Huq took an initiative in this regard.
But, the initiative lost momentum after his death in November 2017.
In the meantime, the High Court in June 2019 had directed authorities concerned to bring bus services in all metropolitan cities under the franchise system.
The court gave the directives while dealing with a case over compensation for the family of road accident victim Rajib Hossain, a student of Government Titumir College.
He died in April 2018, after a bus of BRTC and another of Sajan Paribahan were trying to overtake each other in the capital's Bangla Motor.
But, the franchise system was not introduced until last year, when a pilot project was launched on Ghatarchar-Kanchpur route from December 26.
Currently, 50 buses under "Dhaka Nagar Paribahan" are being operated under the system.
A committee led by Dhaka South City Corporation Mayor Sheikh Fazle Noor Taposh, which oversees the pilot project, yesterday announced its plan to run 225 new buses on three routes in Dhaka.
Currently, some 6,000 buses operate in Dhaka and adjacent cities under several hundred companies and individuals.
In many cases, bus owners lease out their vehicles to drivers or conductors on a daily contract basis, and drivers get involved in unhealthy competition for picking up more passengers to maximise profit.
Transport experts said if all buses come under a couple of companies, share their income, and in return, get profit as per their investment, then this problem will end.
Under the existing law, a bus operator, upon receiving route permit, cannot legally be prevented from running their bus on a particular route.
So, the new act would ensure rules for buses to be operated under a particular company, a DTCA official told The Daily Star yesterday.
Currently, the pilot project is being run under a draft guideline, he said, wishing anonymity. The guideline will be incorporated into rules that will be formulated to implement the law.
After the law is enacted, a franchise company will have to take permission and licence from DTCA for operation.