How to avert the next level crossing disaster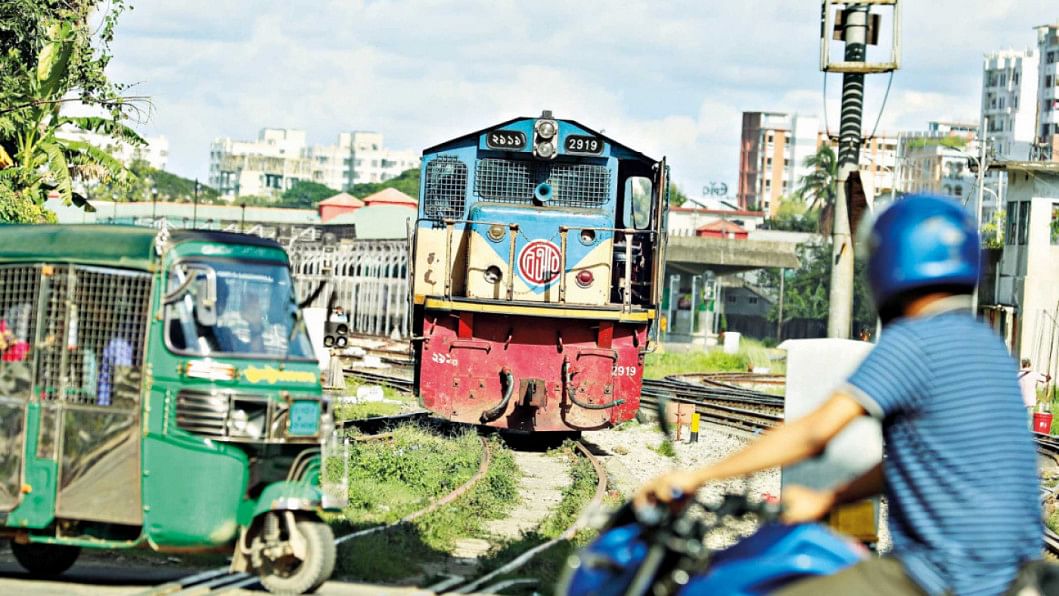 The problem with unprotected level crossings is quite old, just as the bickering over their management between the railway authorities and other concerned agencies. Yet, after every tragedy, the bickering parties return to the chopping board with an eagerness that one would wish were directed to saving life rather than saving face. No official apology issued for any dereliction of duty. No inter-agency collaboration to avoid its recurrence. No reforms in how the level crossings are operated. It's like the only outcome they care about after a tragedy is a sense of coming out of it not looking like the guilty party.
True to this tradition, the railway bosses, after the latest level-crossing collision that killed eleven people in Mirsharai, Chattogram, again opted for the safety of old, hackneyed arguments. The incident shocked the nation because of the unfortunate loss of so many young lives. Most of them were SSC/HSC students as well as teachers of a local coaching centre. Besides, six others were also critically injured. Reportedly, they were on their way back from a picnic when a Chattogram-bound train rammed into the microbus carrying them, with no gatemen/lineman to warn them or pull up the barrier. The train dragged it for about a kilometre before pulling to a stop, leaving behind a messy trail of shattered auto parts, torn clothes, shoes and bags, and damaged tracks.
Soon after, however, the railway minister sought to clarify whose head he thought should be put in the metaphorical guillotine for the tragedy. "A train goes on its own tracks. It never crosses into tracks of others. It never hits anyone [on its own]," he said, spelling out the ABC of train operations. He then added: "It is others that hit the train, others who prefer to build roads over railroad tracks. It is their responsibility to give security to the people and property [passing through them]." Road security, in his view, is not the concern of the railway authorities, but of the Road Transport and Highways Division.
Around the same time, the director general of Bangladesh Railway (BR) said: "The responsibility [for the level crossing accident] is not ours." But then, rather conveniently, he shifted the blame onto the victims themselves. "Anyone crossing a track should be careful before stepping in. The responsibility for any accident is theirs." One wonders what is more tragic – a deadly accident, or the insinuation that victims had brought this upon themselves. The insensitivity of the comment only illustrates the indifference with which citizens are generally treated by most public institutions.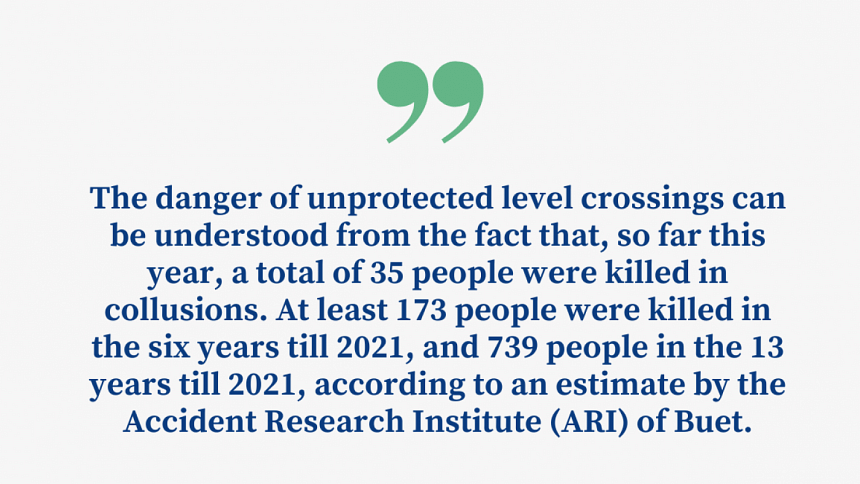 To be frank, the railway authorities do have a point when they speak of other agencies building roads cutting through the rail tracks. In that, level crossings represent a unique administrative challenge, as they bring together two distinct modes of transport – trains vs road and off-road vehicles – and two different sets of supervisors, with the other being road builders including the Local Government Engineering Department (LGED), upazila/pourashava administrations, etc. A crossing marks not only their point of meeting, but also their point of divergence.
The friction starts with the very act of building crossings – both authorised and unauthorised – which are often left unmanned. Currently, there are 1,412 authorised and 1,149 unauthorised crossings in the country, most of them unmanned. In short, about 82 percent of all crossings are unprotected. Reportedly, at least nine government bodies were involved in building the unauthorised level crossings, with the LGED having constructed the highest 516.
The danger of unprotected level crossings can be understood from the fact that, so far this year, a total of 35 people were killed in collisions. At least 173 people were killed in the six years till 2021, and 739 people in the 13 years till 2021, according to an estimate by the Accident Research Institute (ARI) of Buet.
If you ask the BR, they will give you a number of reasons why managing level crossings is a responsibility of those building the roads, which they often do without constructing speed breakers on either side of crossings, or ensuring that they are safe to use for road travellers. There is also an acute shortage of staff to operate the barriers round the clock. But just because the BR is ticking some of the boxes right doesn't make it wholly right, or innocent, or absolve it of its own responsibility. Poor supervision or crisis of gatemen, for example, is something that it stands perennially guilty of. But level crossings being a shared administrative challenge, their responsibility shouldn't have to fall solely on the railway too.
This is why there should be a special administrative arm in charge of level crossings. Lack of interoperability among the agencies involved is an issue that only a central wing or commission can address, without which the blame game will continue and another disaster may only be a matter of time. It should supervise all decisions related to level crossings. For example, at an inter-ministerial meeting in January 2021, a number of decisions were taken to ensure the safety of level crossings, including constructing speed breakers where there are none, reducing the number of illegal level crossings and building overpasses or underpasses in future projects. But hardly any progress has been made in this regard. A central authority would be ideally placed to fast-track such activities and ensure inter-agency collaboration.
But even within a central command, the railway should play a prominent role. Unfortunately, despite huge investments being made in the railways, the authorities are struggling to offer decent services thanks to sheer corruption and irregularities within the BR. Mismanagement in procurement, recruitment and railway scheduling remains a critical challenge. But it is the security aspect of their duties where they are failing most spectacularly, with the number of railway-related accidents excluding level-crossing collisions still pretty high. The railway authorities must lead the drive for reforms and be a part of the solution rather than the problem, otherwise level crossing disasters will continue to occur.
Badiuzzaman Bay is assistant editor at The Daily Star.