Level crossings are veritable death traps
Mirsharai tragedy shows the sheer mismanagement of crossing authorities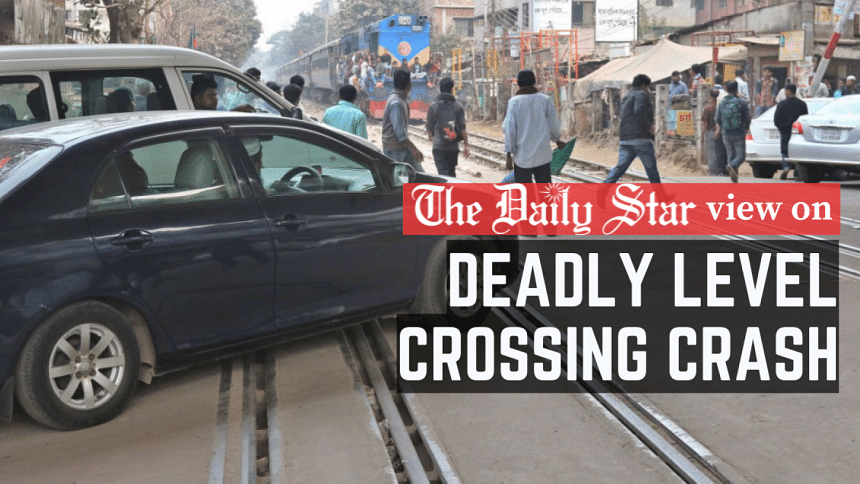 It's alarming that despite huge investments being made in the development of highways and railways, modern infrastructure hasn't translated into better public transport, faster speed, or safer journey. On Friday, we were served up with the latest proof when 11 individuals were killed in a level-crossing crash in Mirsharai, Chattogram. Six others were also critically injured. Reportedly, the victims – mostly SSC/HSC students along with some teachers of a coaching centre – were on their way back from a picnic when a Chattogram-bound train rammed into their microbus. It dragged it for over half a kilometre before pulling to a stop, leaving behind a messy trail of shattered vehicular parts, torn clothes, shoes and bags, and uprooted tracks.
We lack words to describe how helpless yet angry it makes us feel seeing such meaningless deaths, of young adults no less, who were robbed of their life even before it could begin to flourish. The railway authorities claim that a guard was present at the crossing and signalled the microbus to stop. But witnesses say that there was no one there, nor was there any signal light. The truth may come out after investigation, but if the outcome of past probe reports is any indication, nothing beyond that will happen. Level crossings will continue to be a veritable death trap, while citizens will pay the price for the mismanagement of agencies involved in building and managing such crossings.
So far this year, at least 35 people were killed in level crossing accidents across the country. According to the Accident Research Institute of Buet, at least 173 people were killed in the six years till 2021, and 739 people in the 13 years till last year. Unfortunately, many of the crossings are unauthorised, and most, authorised or not, are either unmanned or thinly manned, significantly raising the risks of accidents. Currently, there are 1,412 authorised crossings – 964 of them unmanned – and 1,149 unauthorised ones with no linemen at all. The sheer mismanagement at the railway is perhaps best exemplified by the fact that the unauthorised ones were built by government agencies themselves – at least nine of them – with the LGED having constructed the highest 516.
In the absence of systemic coordination among them, unprotected crossings continue to throw up dead bodies every now and then. Reportedly, the authorities at an inter-ministerial meeting, in January last year, had decided to construct speed breakers on both sides of level crossings, reduce the number of illegal level crossings, build overpasses or underpasses in future projects, etc. Evidently, nothing at all has been done even after a year and a half. This is totally unacceptable.
We urge the government to make all involved agencies, especially Bangladesh Railway, work in collaboration to improve the safety of level crossings. It must hold them accountable, properly staff all crossings, and build sufficient barriers and speed breakers to prevent tragedies. We must not normalise such deaths.