Death lurks at unsafe level crossings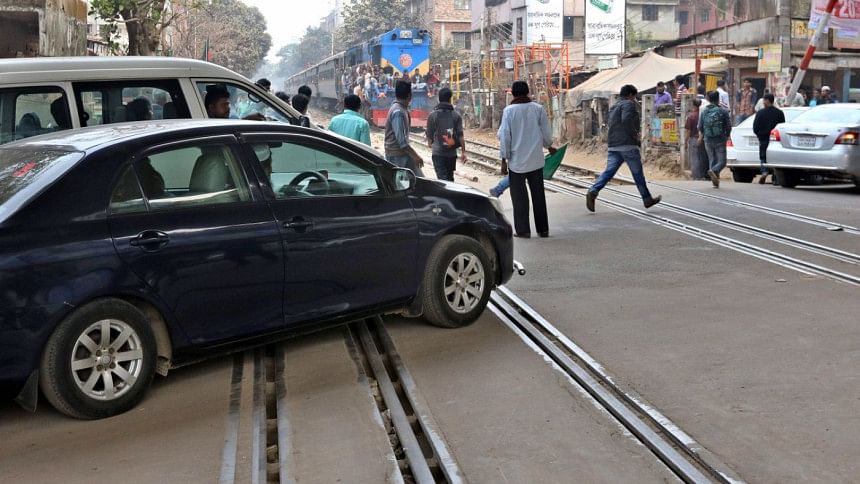 Accidents at unprotected level crossings continue to claim lives as decisions taken at an inter-ministerial meeting around one and a half years back to curb such fatalities remained largely unimplemented.
At least 35 people have been killed in major accidents at level crossings so far this year with the latest accident leaving 11 people dead in Mirsharai of Chattogram yesterday.
Besides, three school children were killed on March 9 after a train ran them over around 150 meters off a level crossing in Cumilla on their way to school.
According to statistics of the Accident Research Institute (ARI) of Buet, 173 people were killed at the crossings in six years till 2021 and 739 people in 13 years till last year.
Amid growing concerns over the casualties at unauthorised and unmanned level crossings, the authorities at an inter-ministerial meeting in January last year decided to take several measures.
Constructing speed breakers on both sides of level crossings, reducing the number of illegal level crossings and building overpasses or underpasses in future projects were among the decisions. Representatives of LGRD, road transport and bridges and railways ministries and Bangladesh Railway (BR) were present at the meeting.
ARI Director Prof Md Hadiuzzaman yesterday said accidents are taking place at unmanned and unapproved level crossings amid absence of gatemen and lack of awareness of commuters.
"The fatalities could have been reduced significantly had the authorities constructed speed breakers and installed and maintained flush lights," he told The Daily Star.
He also said it is unfortunate that different government agencies have constructed many level crossings without the approval from Bangladesh Railway. There are also no gatemen at these points.
"The government agencies which built the crossings have to be held accountable if any accidents take place in those places," he said.
There are 1,412 authorised level crossings and 964 of those are unmanned, according to a latest document of Bangladesh Railway. Besides, there are 1,149 unauthorised level crossings which have no gatemen.
At least nine government bodies were involved in building unauthorised level crossings, with the LGED having constructed the highest 516.
Asked whether the decisions taken in January last year's meeting have yet been implemented, Rail Minister Nurul Islam Sujan said it is not possible in one day. But some decisions like constructing underpasses or overpasses are being implemented under the new projects.
"The problems will not be solved if only the railway is given all the responsibilities; other government agencies who have jurisdiction over roads also have to take responsibilities," he said, adding the railway authority giving any approval doesn't mean it has taken the responsibility of safety of all the crossings.
The minister said there are around 4,000 level crossings and it requires six gatemen for each. It is not possible for the railway to appoint such a huge manpower.