'Mehmankhana' shares joy of Eid with 6,000 low-income people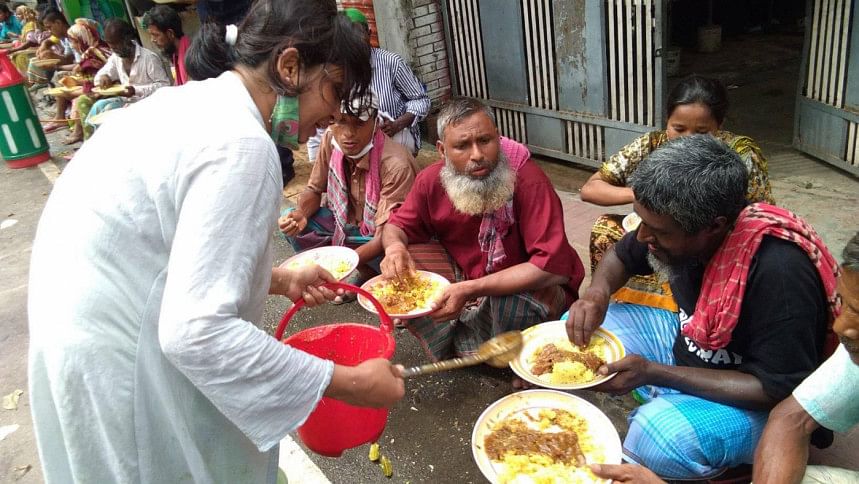 'Mehmankhana', an initiative by a group of volunteers in Dhaka's Lalmatia, made special arrangements to feed low-income people today on the occasion of holy Eid-ul-Azha. 
According to the organisers, 41 volunteers served about 6,000 people with unlimited beef and khichuri from 12:00pm till evening today. 
The organisers received 11 cattle from anonymous persons and served the meat to the low-income section of people in the capital, including orphans, rickshaw-pullers, street vendors, and people from other marginalised sections, spreading the joy of the festival and putting smiles to their faces on the occasion. 
One of them, rickshaw-puller Abu Saeed's words seemed to reflect that joy. He said that he never saw anyone taking such care of the disadvantaged in Dhaka city. 
Eight-year-old Yasin, while enjoying his khichuri and beef, said with excitement that he came here to celebrate Eid.
Biplob Hossain from Mansurabad in Adabor said the taste of food was so good and the volunteers took care of them in such a way that he felt as if he were at home on Eid.
Ejaz Ahmed, who was serving the guests as a volunteer with a smile, told The Daily Star that about 6,000 people were served meals from noon till evening. 
"Although the volunteers are very tired after the day's work, there is a great satisfaction to cherish," he added. 
"The fact that some people in this city are having a happy meal makes me feel privileged to be a part of the initiative," said Ahsan Habib Murad, another volunteer.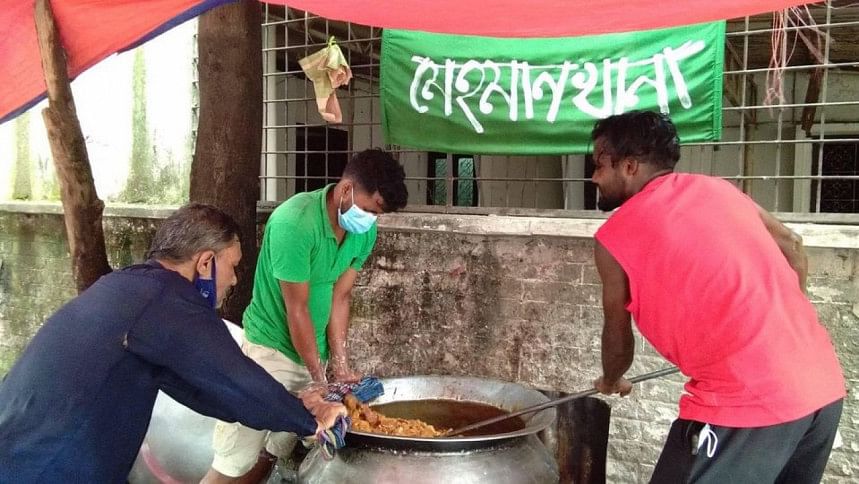 Not only this Eid, 'Mehmankhana', as the organisers call it, also arranged a similar event to feed low-income people during last Eid-ul-Fitr.
Moreover, during the whole month of Ramadan, nearly 1,500 people received iftar there every day. 
This initiative has been going on in Lalmatia Block-D since last year to feed low-income people. 
Theatre workers Asma Akter Liza, Syed Saiful Alam Shovon, Syed Shamsul Alam, Ijaz Ahmed, and some others have been involved with the initiative since the beginning.
"After the pandemic began last year, we were trying to ensure food for poor people. At first, it began with feeding one or two hundred people. Then as Ramadan began, we started providing iftar to them. This year, starting from the first week of April when the government reimposed lockdown, we decided to reach out to more distressed people during Ramadan. Even after the strict lockdown began on July 1, we continued the work," Asma Akhtar Liza told The Daily Star.  
"We have proven that the people of this country know how to love each other," she said, adding, "We got 11 cattle to feed the poor and all of those were sent by unknown people. We, 41 volunteers, just did the physical work. We want to continue this arrangement for the next three days." 
"We hope to carry on our work so that the low-income people in this city can believe that there is someone for them. At this time of the epidemic, all of us need to show love for each other," Asma added.
Shariful Hasan is a freelance journalist.