It's malicious, unacceptable
Says info minister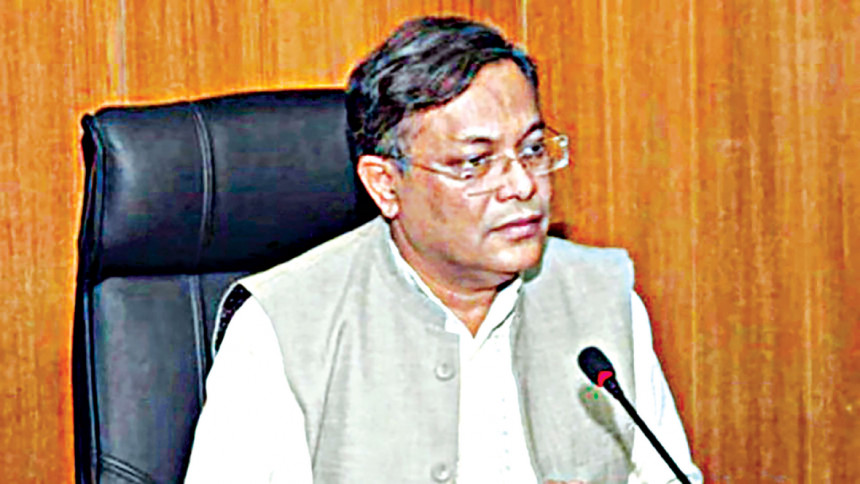 Rejecting the report of Reporters Sans Frontieres (RSF) on Bangladesh's ranking in the World Press Freedom Index, Information and Broadcasting Minister Hasan Mahmud yesterday said the report was "malicious, objectionable and unacceptable".
"Paris-based RSF is always malicious towards Bangladesh. They published a report on our Prime Minister Sheikh Hasina last year that contained objectionable statements," he said.
The minister was speaking at a press briefing at his home in the port city's Dewanzi Pukur Par.
Hasan said the RSF also ran untrue and fabricated reports on Bangladesh's media. The country's journalist unions protested their reports that time, he said, adding that even some Bangladeshi expatriates in France sent a legal notice to the organisation through a lawyer.
He said the legal notice mentioned that RSF could not make such statements against any country or head of the government as per the law of France.
They did this by violating French law. So, the report on Bangladesh's ranking is not acceptable in any way, said Hasan, also that joint general secretary of Awami League.
The minister said the RSF, also known as Reporters Without Borders, collected data and information from those who are spreading propaganda against the country abroad. The report is of no value and the organisation is publishing reports against Bangladesh continuously with an ill intention, he added.
Hasan said the RSF has also talked about the Digital Security Act. There was no need of such a law when the issue of digital systems did not exist, he told reporters.
The minister said such law exists not only in Bangladesh, but also in many other countries, including neighbouring India and Pakistan, Singapore, Australia, and the USA.
He said everyone should remain alert so that none can misuse the law.