Bride-groom demand repeal of DSA during reception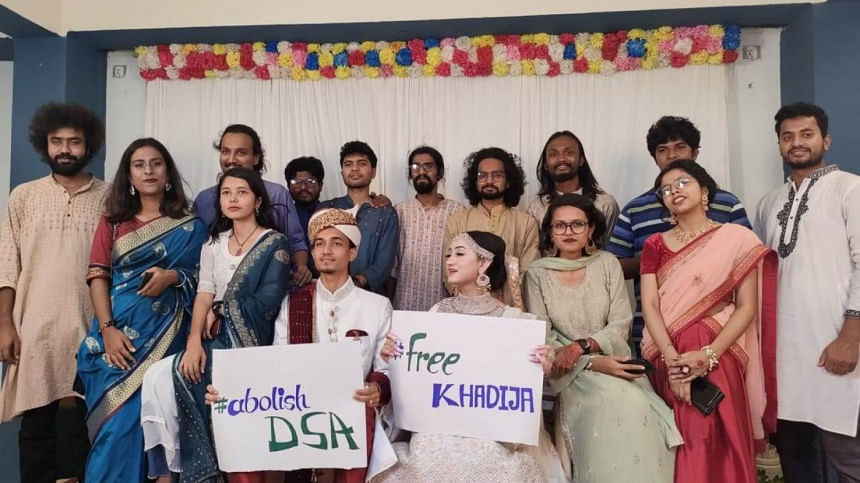 Many brides and grooms from all over the world have come to the limelight by organising fancy weddings which make for great photos on social media.
However, a wedding ceremony held in Jhenidah has come into discussion for novel photos.
The newlyweds during their reception were seen demanding the repeal of the Digital Security Act and the release of Jagannath University student Khadija Akter.
The photos of the wedding ceremony of Mahmudul Hasan and Sumaiya Afrin have been doing the rounds on social media.
Mahmudul Hasan is a student of Jahangirnagar University and the office secretary of Bangladesh Chhatra Union JU and Sumaiya Afrin is a leader of Barisal University chapter of Bangladesh Democratic Students' Council.
The groom held a placard that said "Abolish DSA" and the bride held one that said, "Free Khadija".
Their friends at the wedding also chanted slogans.
Mahmudul Hasan said, "We wanted to start our new life by demanding the repeal of this restrictive law and Khadija's immediate release. This protest at our wedding is aimed at calling for the participation of conscientious people in the struggle for the liberation of the masses through the end of all forms of oppression."
"Khadijatul Kubra has been in jail for more than eight months in a case under the Digital Security Act. She is suffering from kidney problems. Despite numerous attempts, she was not released on bail. This is because the provisions of the Digital Security Act are non-bailable. It is clear from various figures that the case has become a tool for the ruling party to use for political reasons and suppress dissenting views."
Imtiaz Arnab, president of Bangladesh Students' Union Jahangirnagar University Union, said, "The newlyweds' unique political stance in the marriage ceremony reminds us time and again that nothing is out of politics. From the cries of daily wage labourers to a wedding, the language of protest has always been varied. Mahmud-Sumaiya's unique protest is a visual proof that people's fundamental right to freedom of expression cannot be suppressed. This bold step of the newly married couple can be an excellent lesson for the politically conscious and politically oriented people of Bangladesh."