Bangladesh 162nd out of 180 countries in Press Freedom Index, scores lowest in South Asia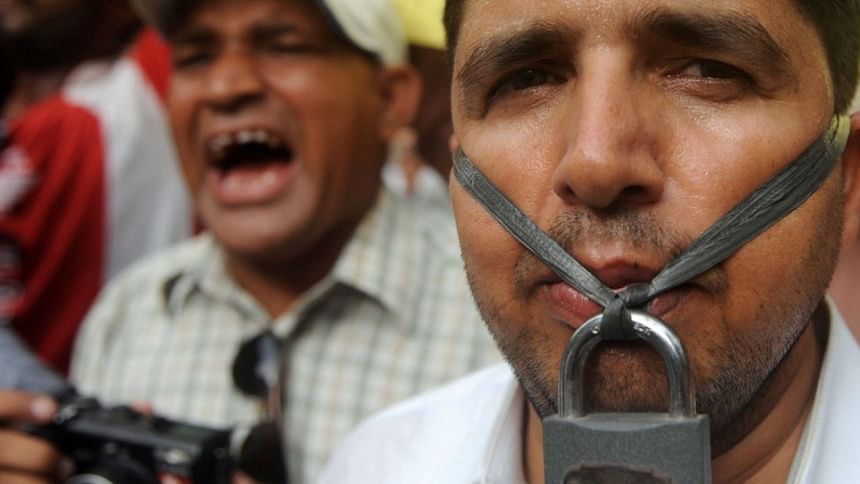 Bangladesh has slipped ten notches in this year's World Press Freedom Index, by Reporters Without Borders, also known as Reporters sans frontières (RSF).
Bangladesh ranked 162nd out of 180 countries while its position was 152nd last year, according to the report released yesterday (May 3, 2022).
Meanwhile, India has dropped eight notches to 150th from 142nd. Norway topped the Index for the sixth year in a row while North Korea placed at the bottom.
The rankings of India's South Asian neighbours, barring that of Nepal, have also slid with the index placing Pakistan at 157th, and Sri Lanka at 146th, reports our New Delhi correspondent.
According to the RSF 2022 World Press Freedom Index, Nepal has climbed up by 30 points in the global ranking at 76th position. Last year, the Himalayan nation was placed at 106th position, Pakistan at 145th, Sri Lanka 127th, and Myanmar at 140th position in the index.
"On the World Press Freedom Day, Reporters Without Borders and nine other human rights organisations asked Indian authorities to stop targeting journalists and online critics for their work," the international non-profit organisation said in a statement on its website.
"More specifically, they should stop prosecuting them under counterterrorism and sedition laws," it added.
RSF said the Indian authorities should respect the right to freedom of expression and release any journalist detained on "trumped-up or politically motivated" charges for their critical reporting and stop targeting them and muzzling independent media.
Turning to the global media scenario, the RSF said the 20th World Press Freedom Index reveals a two-fold increase in "polarization" amplified by information chaos, that is, media polarization fuelling divisions within countries, as well as polarization between countries at the international level.
Reacting to the RSF 2022 World Press Freedom Index, three Indian journalist organisations said in a joint statement that "job insecurities have grown and attacks on press freedom have seen an exponential rise."
"Journalists have been incarcerated under draconian laws for flimsy reasons and on some occasions faced threat to their lives as well from self-styled custodians of law in the social media space," the Indian Women's Press Corps, Press Club of India and Press Association added.
TOP 10 COUNTRIES IN WORLD PRESS FREEDOM INDEX 2022
1. Norway
2. Denmark
3. Sweden
4. Estonia
5. Finland
6. Ireland
7. Portugal
8. Costa Rica
9. Lithuania
10. Liechtenstein
WORST 10 COUNTRIES IN WORLD PRESS FREEDOM INDEX 2022
1. North Korea
2. Eritrea
3. Iran
4. Turkmenistan
5. Myanmar
6. China
7. Vietnam
8. Cuba
9. Iraq
10. Syria