Thousands arrive as BNP's sit-in protest in Khulna begins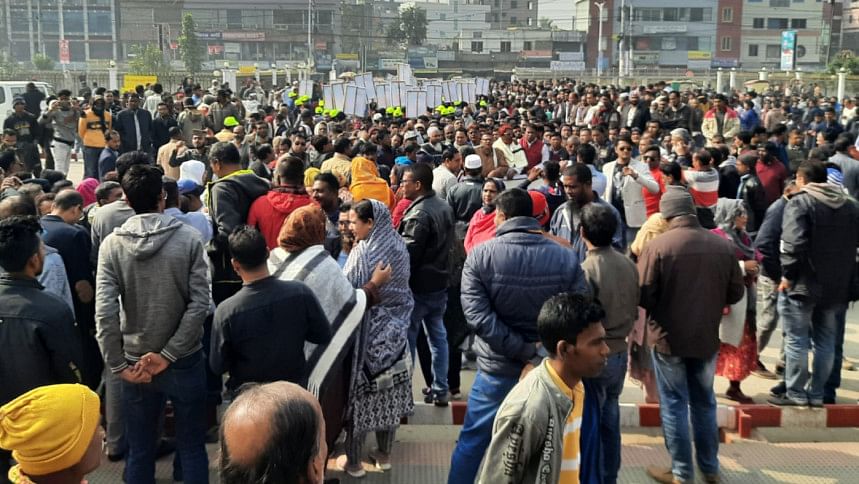 The divisional mass sit-in programme of Khulna BNP to press home party's 10-point demand started this morning in the city's KD Ghosh Road area.
Around a thousand BNP leaders and activists from the 10 districts of the division and upazilas are participating in the protest programme that began around 11:10am, reports our local correspondent.
The leaders and activists started arriving in rallies from around 10:30am at the party office chanting slogans demanding resignation of Prime Minister Sheikh Hasina, freedom of BNP Chairperson Khaleda Zia, and their rights to vote. The rallies arrived from several areas in the city including Picture Palace intersection, Dakbanglo Intersection, and Shibbari intersection.
Various political parties and alliances led by BNP started a simultaneous movement in December last year demanding resignation of the government.
Their demands include the resignation of the Awami League government, dissolution of parliament and election under non-partisan interim government.
BNP Vice-chairman Shamsuzzaman Dudu in his introductory speech at today's sit-in protest in KD Ghosh said the government would be made to resign at any cost. He urged the party leaders and activists to stay in the programme peacefully till 3:00pm.
BNP's Khulna Divisional Organising Secretary (Acting) Anindya Islam Amit, BNP Central Information Secretary Azizul Bari Helal, Divisional Assistant Organising Secretary Babu Jayant Kumar Kundu, Khulna city BNP convener Shafiqul Alam Mona along with other leaders of the party already arrived at the pretest programme.