Rajshahi gears up to welcome PM after 5 years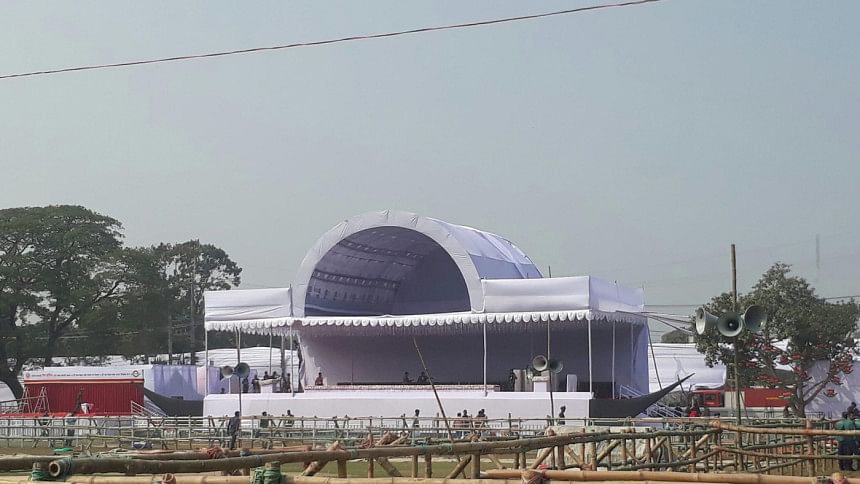 Rajshahi is all ready to welcome Awami League President and Prime Minister Sheikh Hasina tomorrow for her first public rally in the district in five years.
Following a month-long preparation for the rally, a 5,000-square-foot stage has been built, with a black boat as the base and white scaffolding on top, at the Madrassa Maidan in Rajshahi, now known as the Haji Muhammad Mohsin Government High School ground.
AHM Khairuzzaman Liton AL presidium member is expecting the gathering of seven lakh people in the city centring the rally.
Some 12 LED screens and 220 loudspeakers have been installed at some important city points so that people can watch the rally without going to the venue, he said.
More than 500 volunteers have been deployed to serve the people while 1.5 lakh water bottles will be kept at different places, other than two water tanks to quench people's thirst.
The city streets have been covered with PVC posters, banners, festoons, and balloons showcasing development activities of the government.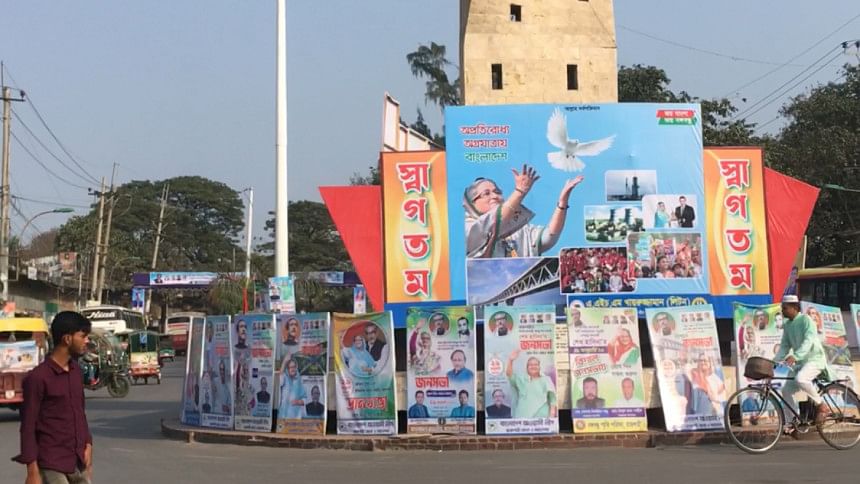 Organised jointly by AL Rajshahi city and district units, the rally will attract people from across the eight districts of the division.
Khairuzzaman Liton said, "People from far-flung areas will rush to the city to greet Sheikh Hasina as she has initiated unprecedented development in the region.
"We have nothing to ask for. She is already doing what the people of this region need."
Trains Hired For Transporting People
Apart from buses and trucks for taking people to the rally venue, Awami League hired at least seven local-route trains from Bangladesh Railway.
The seven trains with a capacity of 10,306 seats were hired for Tk 12,90,007, Ashim Kumar Talukhder, west zone railway general manager, told The Daily Star.
Two trains were allocated for Chapainawabganj district -- one from Chapainawabganj station and another from Rohonpur station.
Other trains will start from Panchbibi station of Joypurhat, Santahar of Bogura, Natore, Sirajganj, and Arani station of Rajshahi, reports our Rajshahi staff correspondent.
Security Measures
Law enforcement agencies have set tight security measures in consultation with the special forces of the PM.
Flying drones in the city has been prohibited since Friday, and there is a ban on carrying any kind of weapons or explosives.
PM To Inaugurate, Lay Foundation Stone Of 31 Projects
Tomorrow, PM Sheikh Hasina will visit Bangladesh Police academy in Sardah to attend the passing out of 38th BCS Cadre apprentice assistant superintendents of police.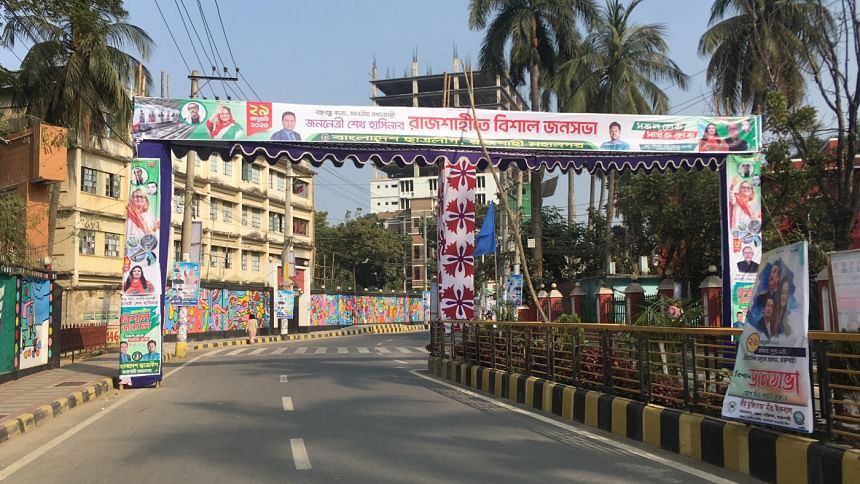 In the afternoon, she will inaugurate and lay foundation stone of 31 development projects worth Tk 1,600 crore.
Divisional rally
Sheikh Hasina will address the rally tomorrow afternoon.
The venue will open to visitors in the morning while local artistes will sing songs of Swadhin Bangla Betar Kendra.
Popular folk singer Shafi Mondol will perform at the event.
After Sheikh Hasina reaches the venue, a composition with the song "Soto borsher tumi Banglar drubotara" will be performed in honour of Father of the Nation Bangabandhu Sheikh Mujibur Rahman.
Sheikh Hasina is visiting Rajshahi after five years. Her last visit was on February 22, 2018 to address an electoral rally at the same venue.