Fakhrul for unity among all opposition parties to topple govt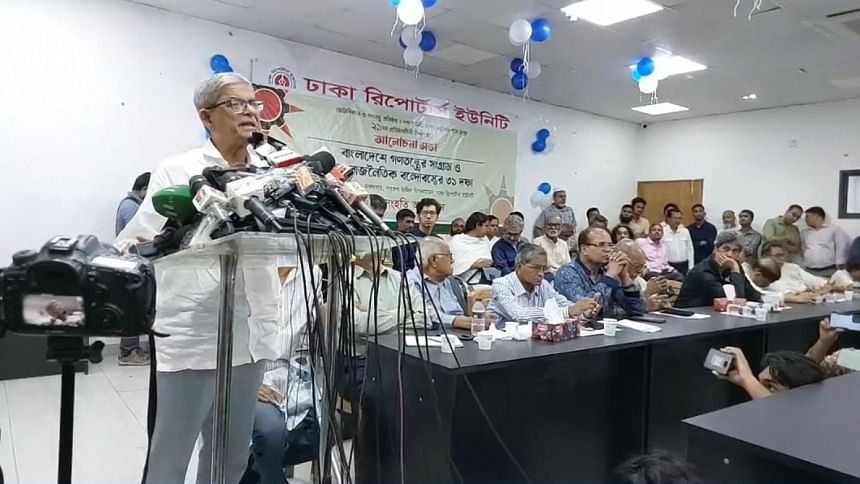 BNP Secretary General Mirza Fakhrul Islam Alamgir yesterday called upon all opposition parties to take to the streets to force the Awami League government to quit and hold the next polls under a non-party government.
"It doesn't matter whether it is a big, medium or small party… our country and our people are in danger now. It is our responsibility to protect them. We all have to come forward and take to the streets," he said.
The BNP leader was speaking at a discussion, organised by Ganosamhati Andolan, a partner of the Ganatantra Mancha, at Dhaka Reporters' Unity (DRU). The event was held marking the 21st founding anniversary of Ganosamhati Andolan.
Fakhrul said all opposition political parties need to take part in the street movement democratically and peacefully to send out a message to the government to step down.
"Enough is enough. Now you [government] please resign and take steps for establishing a people's state, a people's parliament, and a people's society," he said.
The BNP leader said it is encouraging that many opposition parties are now raising the same demand for the resignation of the incumbent government.
Fakhrul expressed frustration that though BNP Chairperson Khaleda Zia has been "critically ill", the government is not allowing her to go to an advanced centre abroad for proper treatment.
Zonayed Saki, chief coordinator of Ganosamhati Andolon, said the country which was built through the sacrifice of the blood of millions has been put at stake by the "misrule of the AL government".
"The Awami League has put Bangladesh in danger in terms of its independence and sovereignty only to secure its illegal power," he alleged.
Saki said, "They have not only snatched the people's rights but also plundered their resources. They have pushed the country towards bankruptcy. They have created division among the people."