BNP rally in Rangpur: "Police raid residential hotels"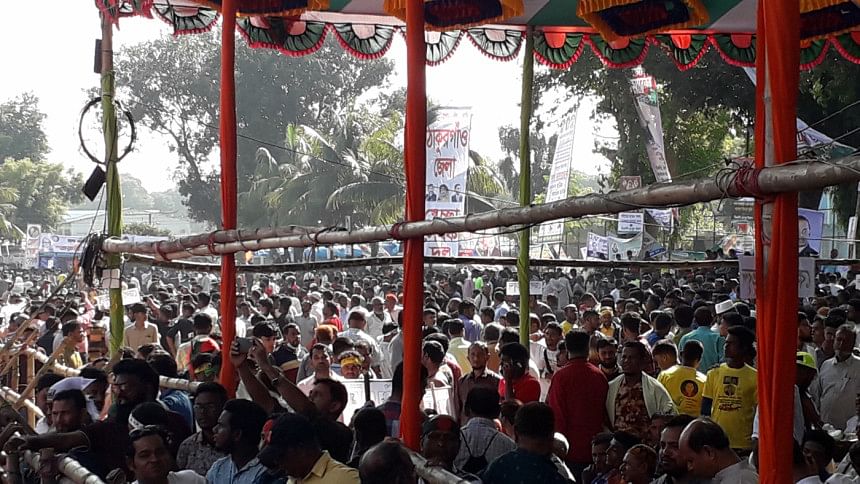 BNP leaders and activists have alleged that police raided various residential hotels in Rangpur city on Thursday (October 27, 2022) and the night of Friday (October 28, 2022) in order to harass them ahead of the BNP divisional rally in the district.
Although police did not make any arrest, panic spread among everyone, repots our Nilphamari correspondent quoting BNP activists.
Beginning on Thursday, BNP leaders and activists from eight districts in Rangpur division began to arrive in Rangpur. They stayed at various residential hotels around the city and claimed that police conducted raids at the hotels and questioned them.
Asked about the allegations, Rangpur Metropolitan Police Commissioner Noor-e-Alam Minar said, "I am not aware of any such operation."
"Members of Rangpur Metropolitan Police are working to ensure safety of all," he added.
Meanwhile, after 9pm last night, most of the restaurants in the city ran out of food.
In this regard, Nilphamari district BNP Organising Secretary, Redwanul Alam Babu, said that those who are staying at the houses of party leaders and workers in Rangpur city got dinner on behalf of those families. Others who spent the night at the venue ate dry food and snacks.
BNP's mass rally will be held today (October 29, 2022) on Collectorate Eidgah ground in Rangpur.