BCL pounces on JCD, again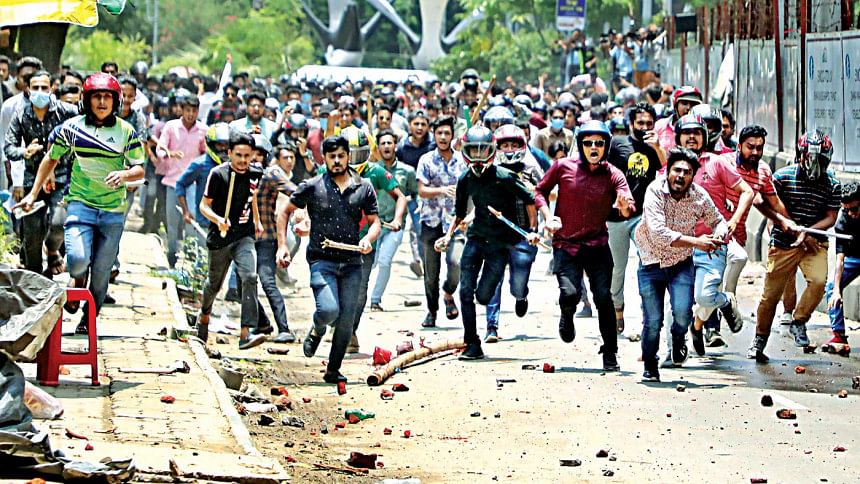 "I told Munim and his followers not to hit him [Ijabul] on his head."
Around 50 people, including a journalist and a lawyer, were reportedly injured as armed members of BCL swooped on JCD leaders and activists in the High Court area yesterday, just two days after violence rocked the Dhaka University campus.
The central committee of JCD had called for processions at educational institutions across the country yesterday to protest Tuesday's attack on its members.
BCL groups had taken positions at different points of DU and its adjoining areas since yesterday morning to resist the opposition men from entering the campus.
A running battle ensued when they obstructed a JCD procession near Doyel Chattar and at one stage chased some members of their rival student body inside the HC compound.
Ijabul Mallik, a former assistant secretary of Dhaka College unit of JCD, fell to the ground in front of Mazar Gate. Around 50 BCL activists -- many wearing helmets and carrying sticks, cricket stumps, iron rods and machetes -- thrashed him.
Witnesses said the BCL activists were so furious that they kept hitting Ijabul for nearly 10 minutes even though he was lying motionless.
Tilottama Sikder, a vice president of BCL central committee, was also seen beating up Ijabul with a stick.
Ijabul was later taken to Dhaka Medical College Hospital on a rickshaw.
Another JCD activist was severely beaten up in the Supreme Court Bar Association (SCBA) office area. He had to be taken to a hospital in an ambulance.
A lawyer, who was filming the clash on his mobile phone, was attacked and left injured, according to witnesses.
BCL men also beat up a journalist.
Jatiyatabadi Chhatra Dal, the pro-BNP student body, claimed that at least 47 of its members were injured yesterday -- eight of them seriously.
Bangladesh Chhatra League, the pro-AL organisation, also said 10 "general students" were hurt in the incident.
Over the last several days, BNP leaders and activists came under attacks by ruling party men while holding demonstrations -- despite assurance from the AL top brass that political programmes by the opposition party would not be obstructed.
On Tuesday, some 30 JCD members, including a few female activists, were injured as BCL men swooped on them with sticks, iron rods and machetes on the DU campus.
In Khulna, at least 50 BNP men were injured after BCL activists attacked them during a rally yesterday. At one point, some policemen alongside BCL men also vandalised chairs at the rally, witnesses said.
At least 25 BNP men, including Khulna Metropolitan BNP Member Secretary Shafiqul Alam Tuhin, were detained after the incident, which also left three journalists injured.
In Patuakhali, at least 15 JCD and Jubo Dal activists were injured as BCL men attacked a BNP protest rally. Eight of them were admitted to Patuakhali Medical College Hospital, reports our correspondent.
In Manikganj, at least 25-30 BCL men beat up District Jubo Dal leader Rakibul Islam Babu and district Chhatra Dal leader Abdul Khaleq Shuvo with iron rods in front of Devendra College. The two were returning from a protest rally in the afternoon.
Earlier on May 7, AL General Secretary Obaidul Quader, after the party's central working committee meeting, said, "About the opposition party, the prime minister said they can hold processions and meetings freely. We don't need to create any obstruction from our side."
VIOLENCE IN HC AREA
Akhter Hossain, the convener of JCD's DU unit, claimed that BCL activists fired two bullets during the attack in HC area.
Some witnesses also said they heard gunshots.
Contacted, Saddam Hossain, general secretary of DU unit of BCL, said those who use arms to control politics had brought weapons to carry out attacks.
Witnesses said central BCL vice presidents Rakib Hossain and Tilottama Sikder; Library Affairs Secretary Syed Imam Baker; DU Amar Ekushey Hall unit President Enayet H Manon; Shahidullah Hall unit General Secretary Sharif Ahmed Munim; Surja Sen Hall unit former joint secretary Syed Shariful Alam Shofu, and SM Hall unit former vice-president Milon Khan, were seen leading the BCL groups and taking part in the attack.
The activists of Dhaka City South BCL unit were the "most aggressive" during the attack, according to witnesses.
About the attack in the High Court area, Tilottama told The Daily Star that the BCL group led by Sharif Ahmed Munim chased the JCD men into the court premises.
"I told Munim and his followers not to hit him [Ijabul] on his head," she said.
About her action, she said they just "resisted the attack by the JCD men" -- a claim repeated by BCL leaders Rakib, Monon and Shariful when contacted by this newspaper.
Abir Ahmed, a reporter of The Daily Campus, an online portal, said at least 20 BCL leaders and activists attacked him from behind while he was returning after covering the clashes.
He was beaten up even more when he introduced himself as a journalist.
"When they attacked me, I dropped my phone. When I tried to pick it up, they again beat me up, and at one stage, they snatched the phone from me. I was beaten up even more after I introduced myself as a journalist," he added.
Asked about it, BCL leader Saddam Hossain said, "The activists were given clear instructions to ensure the safety of journalists and yet this happened. This is very sad and unexpected. We will look into the complaint."
He added, "The JCD men were resisted by general students when they tried to enter the campus with guns and other weapons. At least 10 general students were injured while resisting the JCD members."
Contacted, Prof Golam Rabbani, proctor of Dhaka University, said, "I have informed the law enforcement agencies so that no one can destabilise the campus. Security has been beefed up."
Meanwhile, police detained two people in connection with violence in the HC area. They didn't reveal their names or political affiliation.