Young, female migrants more prone to extremism
Finds Brac study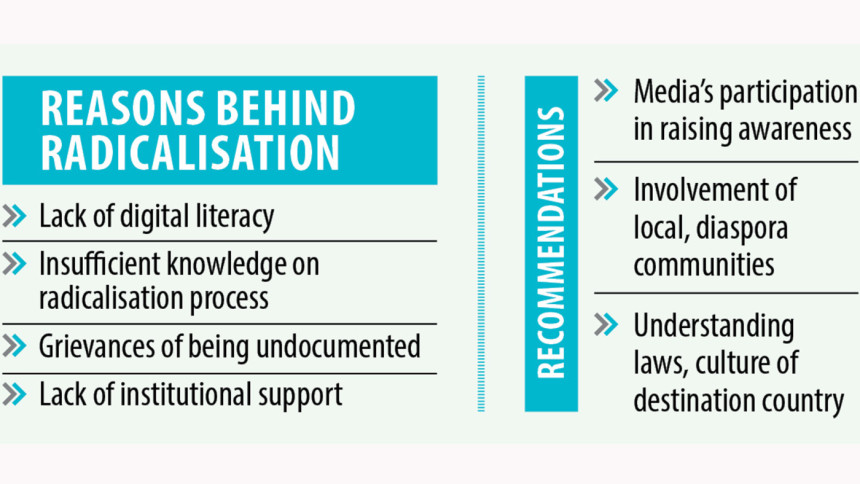 Bangladesh missions should regularly keep track of migrants abroad, as young and female migrants with a lack of digital literacy are more at risk of being indoctrinated into extremism, according to a new study of Brac.
Besides, financially aggrieved migrants who do not have the skills to keep up with the changing society are also believed to be vulnerable to such zealotry, the study report says.
Brac came up with the findings after the study was conducted on over 400 returnee migrants from April to September this year. The research was carried out in 21 upazilas of five  districts that see a lot of migrations, alongside focus group discussions and interviews of key informants.
Findings of the report "Radicalisation and International Migration: Perception of Realities from Bangladesh's Perspective" was shared during a dissemination workshop yesterday at the capital's Brac Centre Inn.
The returnees worked in Saudi Arabia, Qatar, Bahrain, Oman, Kuwait, the United Arab Emirates, Malaysia, Singapore and Libya. They returned home between 2017 and 2021.
Since migrant workers have insufficient knowledge about the radicalisation process, this can be a potential source for recruiting militants, says the report.
It also mentioned that grievance and bleak situations in the lives of undocumented migrants work as a catalyst for getting involved in extremism.
Prof Shahab Enam Khan of Jahangirnagar University's international relations department, who was commissioned to conduct the study, said the lack of institutional support makes a segment of the migrant community vulnerable to multiple challenges.
These segment can be exploited by various groups, including radical entities, he said.
The study found that 2.3 percent of the respondents even donated a small portion of their earnings to religious groups that have political or violent intentions, he added.
Prof Shahab emphasised the media's role in raising awareness to prevent extremism.
The report says alongside Bangladesh missions, the involvement of local and diaspora communities can be a catalyst to strengthen resilience against extremism.
It says 41.4 percent of the respondents worked in the informal sector in the host countries.
The report recommends that aspirant migrants should have a clear understanding of the destination country's regulations, laws and culture before going abroad.
Brac Migration Programme Head Shariful Hasan said no migrant should fall victim to radicalisation or extremism and tarnish the country's image.
Monirul Islam, additional inspector general of police and chief of Special Branch, who spoke at the workshop as chief guest, said police is more than capable to neutralise any threat of extremism.
"Bangladesh Police is working relentlessly to keep the country safe," he said.
Zohora Monsor, deputy director (admin) of Bureau of Manpower, Employment and Training, said the focus should be put on preventing unauthorised remittance-sending channels to curb the financing of extremist causes.