'Will help ever come our way?'
150 families living under open sky for two months since Sitrang's devastation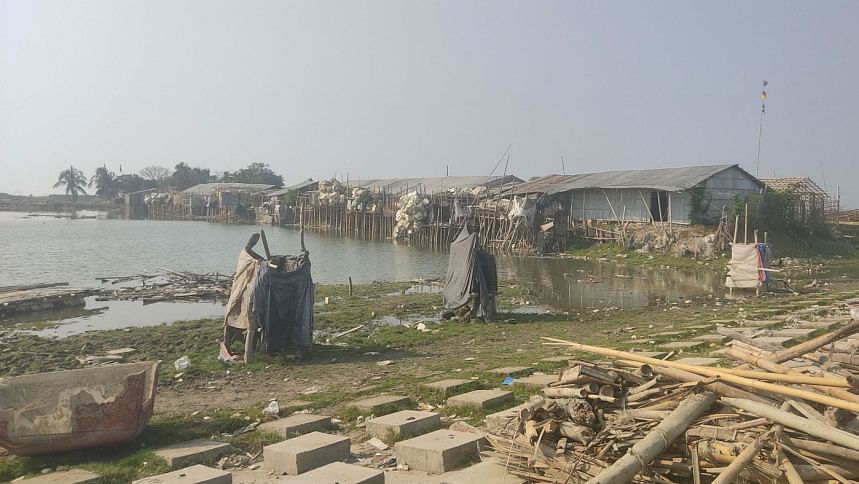 Suvash Chanda Jaldash, now 75 years old, had land, home, and much more in Noakhali's South Hatia island in the early 90s. With his wife and five children, he had a happy life in the then "Aladi village" in Hatia's Nalchira union.
But the nightmare started when the Meghna river swallowed his whole village, along with his properties and belongings, around 25 years ago, leaving him homeless.
"I have shifted my family eight times, looking for a safe place, after losing everything to the river... I came to Chattogram's Patenga area 25 years ago and started living by an embankment," he said.
"But cyclone Sitrang once again took everything away," Suvash said, sitting in a small, makeshift shelter on Outer Ring Road in Bandartila area, near the embankment. He has built the shelter, under which seven members of the family stay, with polythene, bamboo and foam.
Like Suvash, nearly 150 families, whose members mostly consist of fishers, lost their homes to Sitrang at the embankment location of Akmal Ali Ghat in EPZ area in late October this year.
Landless people from Noakhali's Hatia, Sandwip island, and other coastal parts of Chattogram region had been living by the embankment for 25 years.
When they arrived in the city long ago, those who had the means managed living spaces in different shanties, but the rest found refuge in the embankment area.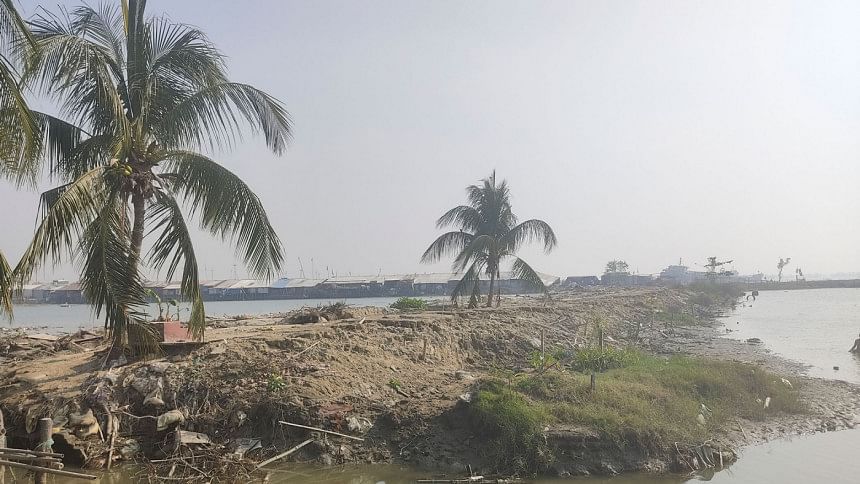 Since Sitrang turned their lives upside down, families of the embankment area have been living under the open sky.
They claimed that aside from initial days after the cyclone hit, they have not gotten any government aid.
"After the cyclone, we just received some dry food, nothing else. Now, no one cares about us," said Suvash's wife Sumitra Jaldash, sitting in her 7-foot by 12-foot shelter.
"In 2008, a survey was conducted in our slum. Authorities gave us some cards and assured us that we will be rehabilitated to another place. But those cards have washed away along with all our belongings during the latest cyclone," told Laxmi Rani Das, who was displaced from Sandwip island following erosion.
This correspondent visited Akmal Ali Ghat's "Jele Para" and talked with over 15 families. They complained that they did not receive any aid from government agencies.
The residents do not have toilets to use. People are using polluted water to meet their daily needs. Laxmi told this newspaper, "We've become used to urinating and defecating in the open. There is no source of drinking water... This is not how a person should live."
A recent study conducted by the Department of Environment shows that average sea-level rise in the coastal zone of Bangladesh has been 3.8 to 5.8 millimetres per year over the last 30 years.
"The ocean is changing every day. Tides have been getting higher, submerging lower coastal parts in the last several years. We have no place to move from the embankment area, and so are forced to live here," said Champa Rani Jaldash, another victim of Sitrang.
District relief and rehabilitation officer Shojib Kumar Chakraborty said, "We had asked the local councillor and city corporation to submit the list of affected people in the area, but we have not received it. And so, we failed to distribute relief in that location."
"We had provided them with dry and cooked food for a week. After receiving the list, we will assist them," he added.
Rejecting the claim of the relief officer, local councillor Ziual Haque Suman said, "I personally submitted the list to the district administration. I will talk about this again."
"Landless and homeless people, mostly victims of climate change, are thronging to different places from coastal areas and other parts of the country," he said. "It is tough to work alone and aid them. Every organ should work jointly in this regard. The people of the area need to relocate to another place."