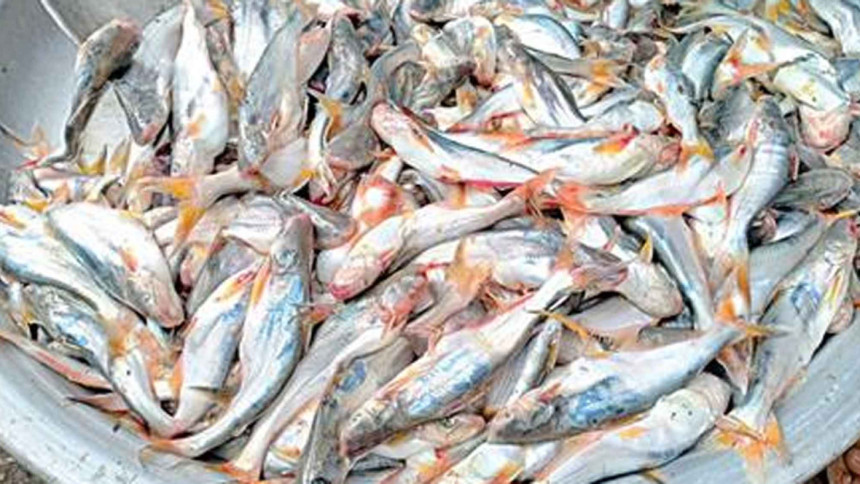 Even though seven points in the junction of Tentulia, Agunmukha and Buragauranga estuaries in Patuakhali are considered as breeding grounds of pangas fry, netting of the fish continues unabated.
The points were declared as sanctuaries for breeding and migration of the indigenous species of pangas. However, some unscrupulous fishers are catching the fries, defying restrictions.
If this illegal activity continues, experts fear, the indigenous breed of the fish will soon become extinct.
This newspaper also published a story on the persisting situation in May.
According to the Fisheries Act, fishing under 12 inches of pangas is prohibited but fishermen are not abiding by it.
During a recent visit to the town's Newmarket fish market, it was  seen that retailers were selling the pangas fry openly at Tk 230-250 per  kilo. When asked, they refused to talk to this correspondent.
Pangas is one of the fastest-growing catfish species. A pangas can weigh up to 60 kg. Catfish is the third-highest producing fish in the country after hilsa. According to the estimates for the fiscal year 2020-21, 11,000 tonnes of pangas came from rivers alone.
Researchers of Ecofish Bangladesh Project-2 of World Fish, funded by USAID, have been working to protect indigenous pangas found in rivers since 2018.
In 2020, the organisation has identified the breeding grounds of pangas and similar fish at seven points in Char Kajal, Char Biswas and Banyatali of Galachipa upazila of Patuakhali region and Chalitabunia, Char Kasem, under Char and Sonar Char areas of Rangabali upazila.
Ecofish Bangladesh Project-2 officials said in 2020, 6,825 maunds of pangas fry were caught in Patuakhali district and around 9,390 maunds in 2021. In the current season, from December to March, 11,340 maunds of pangas fry have been caught.
Sagarika Smriti, an associate researcher of the project, similar measures like protecting hilsa should be taken to save native species of fish.
Contacted, District Fisheries Officer Mollah Emdadullah said they have started a campaign to seize these illegal nets and increase their vigilance to protect the pangas fry.