Tough times for tannery workers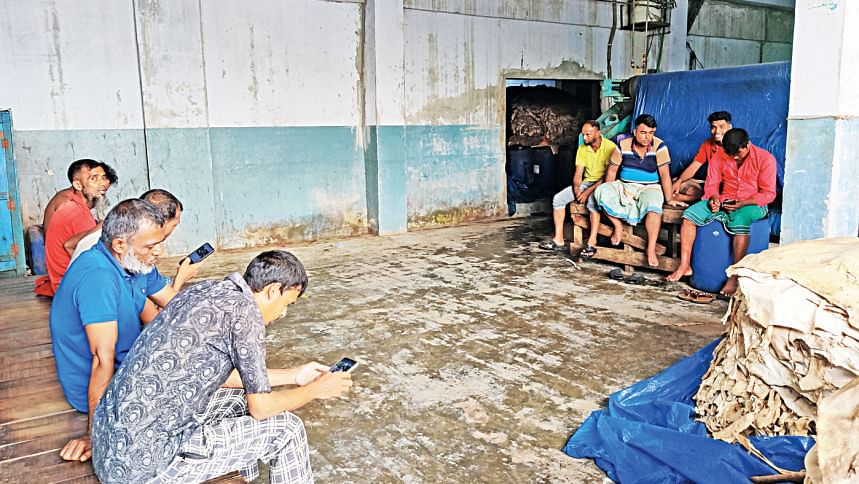 With the ongoing energy crisis and the rising price of commodities, the tannery industry has been gravely affected, and with that, their workers.
 Since the wage scale of the workers are determined by the rate of production at the factories, with decreased rates of production, their earnings have significantly decreased.
Mohammad Nazim Uddin (30) is a permanent worker at a tannery in Savar Tannery Industrial Estate. With wages and other benefits, his monthly salary is TK 14,340.
Depending on the rate of production, he can work overtime and earn around Tk 25,000 – 26,000 each month. Last June, he earned Tk 25,000.
However, his earnings went down to Tk 17,000 (including overtime) in July.
Nazim now spends his days in worry as his income decreased at a time when commodity prices are increasing and he probably won't be able to earn more than his baseline salary.
"Generally during this peak season, I used to get so over-ridden with work, but this year, we only have eight hours of duty," he added.
"The factory's production has been down since last July due to the electricity crisis. In this current month, rawhide processing has halted and in the up coming months, all factories will have rawhide processing allotted for four days."
"My rent's increased and now's the time I can't earn beyond my baseline. I need Tk 17,000 monthly to run my four-member family, including rent, my children's education and food. How will I go on?" said Nazim.
Temporary tannery worker Mintu Mia has been working at a tannery for three years now with a monthly salary of TK 9,450. If he's ever absent from work, he gets less than that amount.
Like Nazim, Mintu said, "In June, I earned Tk 12,000 from the factory, and in July, Tk 10,000. This month I won't be able to earn beyond my salary. If things go on like this, my family will starve."
Abdul Malek, Tannery Workers Union secretary, said there are almost 10,000 workers in the Savar Tannery Industrial Estate. Their wages are very low.
"For a long time, we've been demanding to run a rationing system for the tannery workers with the government's permission. But the demand hasn't been met yet. Workers aren't being able to purchase essentials with the amount they get," said Malek.
Contacted, Md Shakawat Ullah, Bangladesh Tanners Association's (BTA) general secretary, said because of Central Effluent Treatment Plant (CETP), factories are currently running on a rationing system.
"Each factory must stop raw hide processing for 3 days every week. The capacity of CETP is 25,000 cubic meters. If all tanneries process rawhide together, liquid waste is produced more than the capacity," he said.
"Also, due to the electrical crisis, we have to keep our factory closed on Sunday each week as per the announcement. We're counting huge financial losses," he added.