Tigers take reins of forest station for 20 hours!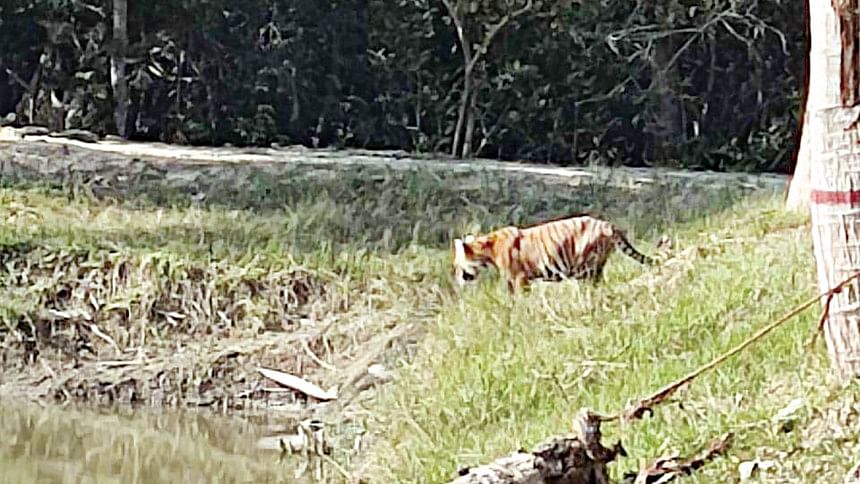 Forest guards confined themselves to their station in Sarankhola range of Sundarbans for 20 hours as three tigers roamed the turf.
The big cats were first seen in the area under Supati Station around 3:00pm on Friday and stayed on the premises till 11:00am yesterday.
A wildlife expert said this was quite unusual behaviour for tigers as they are typically secretive and territorial.
Mohammad Shamsul Arefin, assistant conservator of forests (ACF) of East Sundarbans Sharankhola Range, told The Daily Star that two tigers first came to the Chandeshwar Forest Office area on Friday afternoon. They drank water from the pond and then lazed around the premises. Later another tiger joined them at night.
Arefin said  the tigers generally come to drink water from the pond and do so inconspicuously, but this time it was different. They even stayed around the premises through the night, and were by the third big cat.
Quoting Farooq Sheikh, in-charge of Chandeshwar forest patrol post, the ACF said the forest guards were quite alarmed and did not venture outside in this time.
Divisional Forest Officer (East Sundarbans Forest Division) Mohammad Belayet Hossain said movement of tigers have increased in the area but did not comment on whether their numbers had increased.
MA Aziz, professor of Department of Zoology at Jahangirnagar University, who also works on research on prey animals in the Sundarbans, said tigers are very secretive and territorial animals.
It is quite unusual for them to roam around and stay for such a long time in one place. This matter should be looked into, he said.
"If there were three tigers together, it is likely two of them are cubs and one is the mother because [adult] males are generally solitary beings and only roam with a female during mating season -- that too not for long," he added.
Professor Aziz further noted that tigers sometimes venture into forest offices to drink freshwater from the pond but generally shy away from humans. As such he urged that the matter should be looked into to determine whether there was any disturbance within their habitat inside the forest.