Tambru Border: Verification of Rohingyas begins today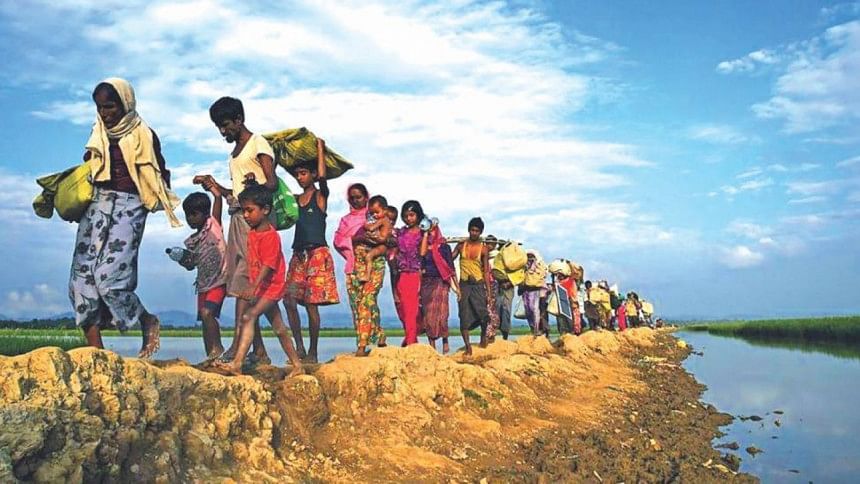 The government is going to start from today the verification of the Rohingyas who took shelter in Bandarban's Naikhongchhari upazila amid armed fighting on the no-man's-land near Tambru border since January 19.
The National Taskforce on the Forcibly Displaced Myanmar Nationals on Wednesday held a meeting and formed a committee to verify nearly 3,000 Rohingyas who are currently staying in houses and schools near Tambru border, according to the meeting minutes.
After verifying them, the committee will make recommendations for the next course of action, said Mohammed Mizanur Rahman, refugee relief and repatriation commissioner (RRRC).
The committee members are representatives from RRRC office, Armed Police Battalion, Cox's Bazar District Police, Bandarban DC office, and other law enforcement agencies.
Sources said some of the newly-arrived Rohingyas were registered with different refugee camps.
According to the meeting minutes and local sources, the Rohingyas who entered Myanmar through a fence amid the violence were forced to come to Bangladesh by Myanmar authorities.
Some of them took shelter with the host community while others were at newly built makeshift shelters in the area.
The taskforce in its meeting had elaborate discussions on the situation and decided that the new committee will urgently identify the Myanmar nationals recently displaced from the Konarpara camp on the no-man's-land.
The committee's recommendations will be on relocating them and providing them with humanitarian assistance, said the meeting minutes, adding that the registered Forcibly Displaced Myanmar Nationals (FDMNs) will be relocated to camps while the unregistered ones to transit camps in Cox's Bazar.
Individuals with criminal records will be brought under the legal system of Bangladesh.
Foreign Minister AK Abdul Momen on Thursday said that Bangladesh would not accept a single more Rohingya.
Sources said those taken to transit camps may eventually be relocated to the regular refugee camps.
At least 4,232 Rohingyas were living at the Konarpara camp on no-man's-land since 2017.
Bangladesh has been hosting over 1 million Rohingyas in Cox's Bazar and most of them arrived there after a military crackdown in Myanmar's Rakhine State that began in August 2017.