Sujon shines in pearl farming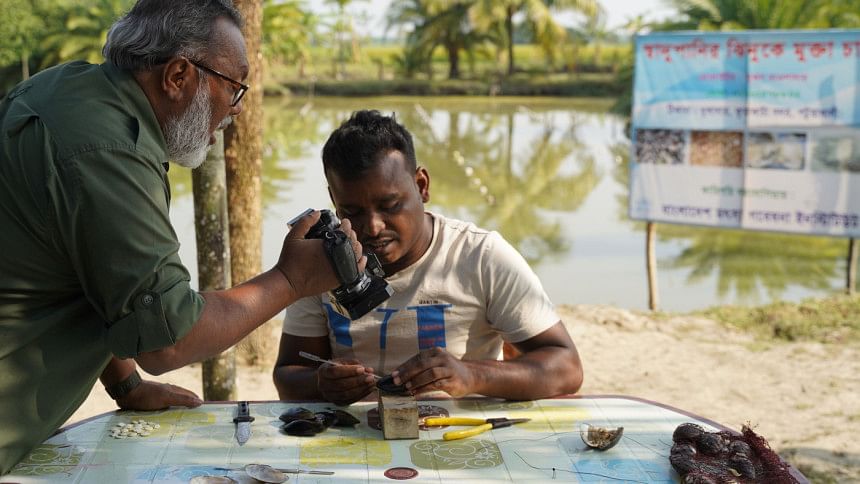 According to researchers at Bangladesh Fisheries Research Institute (BRFI), more than 150 pearl farmers in 90 upazilas under 41 districts of the country are currently engaged in cultivating about 6,00,000 oysters.
Usually, pearls are being used as raw materials for making ornaments.
Last November, I went to visit Barishal and Patuakhali, where I met a young man from Dhulashar village in Patuakhali's Kalapara upazila.
Sujon Hawlader, who started pearl farming only three years ago, has become self-reliant by culturing pearl in oysters.
At present, he is doing pearl farming in three separate ponds.
The oysters are put in a net bag, using a special technique, and tied to a bamboo pole and then submerged in the middle of the pond.
Rows of plastic bottles, mainly used to keep the oysters away from the bottom of the pond, are seen floating across the pond.
Sujon brought some oysters from his pond and show me how oysters are operated and given medicines.
He usually makes two types of pearls, designed pearls and round pearls.
Sujon said as the process of pearl culture is quite time-consuming so far, he has produced 10,000 pearls.
Alongside pearl cultivation, Sujon is doing fish farming as an additional crop.
Yearly expenses against each oyster, including nets, ropes and manure, is around Tk 20.
While pearls extracted from each oyster are sold for Tk 300 to Tk 600, depending on size and quality. Accordingly, minimum profit from each oyster is at least Tk 280 every year.
Currently, there are 4,500 oysters in Sujon's pond and he hopes the profit will be more than Tk 12 lakh.
Pearl farming is showing many youths the way to self-reliance. Many young entrepreneurs are now becoming interested in pearl farming.
But to sustain entrepreneurs need to have a clear understanding of the pearl market. In addition, high-quality oysters are required for high-quality pearl production.
I have seen large farms in the Netherlands producing high-quality oysters.
Although a precious gem is found in oysters, pearl farming requires scientific thinking and knowledge.
Especially, understanding the competition in local and international markets.
Moreover, for commercial pearl cultivation it is necessary to educate the entrepreneurs about the modern technologies.
Chief Scientific Officer at Bangladesh Fisheries Research Institute in Kalapara Amirul Islam, who was also present there, talked about the commercial potential of pearl farming.
Sujon said the most important thing in pearl cultivation is to deliver the designed pearl as per the customer's desire.
The technique has been carried out by the individual initiative of one Ruhul Amin Liton, a pearl farmer from Lalmonirhat Sadar upazila, who learned it from India.
Sujon feels that if the government develops the market management and training facilities at every stage of oyster farming, from production to marketing, pearl farming will become more viable and there will be a boom in pearl cultivation.
The story of pearl farming in oysters is not new while use of pearls in jewellery industry is also age-old.
The position of pearl is well known in collection of globally recognized precious stones. Pearls are also used in medicine and cosmetics industry.
That is why pearls are intensively cultivated in many parts of the world. Oyster pearl farming is an environmentally friendly technology.
I believe, the way young people like Sujon are taking the pearl cultivation ahead, other entrepreneurs will also come forward.
It can also create employment for many and new possibilities for the economy.