Start of hajj flight: Govt likely to miss May 31 deadline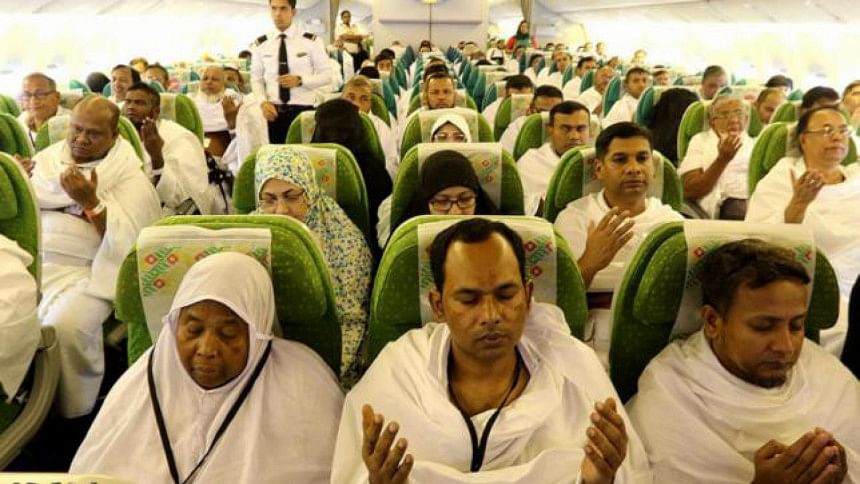 The government is likely to miss the May 31 deadline for starting hajj flight as many hajj-related activities are yet to be completed with the hajj only one and a half months away.
The largest annual congregation of the Muslims may be held on July 8, subject to sighting of the moon.
Hajj Agencies Association of Bangladesh, a platform of around 1,500 private hajj agencies, said it is certain that the scheduled date for commencing the hajj flight would be missed as all procedures in this regard have not been finished yet.
Haab President Shahadat Hossain Taslim recently sent a letter to the religious affairs ministry asking it to start the flight from June 10.
Talking to The Daily Star recently, he said the Saudi Arabian government was yet to finalise the slots for the hajj flights.
Haab said smooth hajj management would be a very challenging task this year.
"Hajj management is a massive work. Previously, the work used to begin seven to eight months before the hajj. Many tasks relating to this management are yet to be done this year although we have a few days left," Shahadat said.
For example, he said, the hajj agencies will have to hire monazzem (representative of a hajj agency who coordinates all tasks of hajj in Saudi Arabia), rent homes or hotels for pilgrims, send money for this purpose, and pay moallem (guide) fees.
There are some other tasks, including arrangement of food for pilgrims and their transportation, he added.
After all the procedures are done, pilgrims get their visas, and the carrying of hajj passengers to Saudi Arabia begins.
Haab leaders said this year hajj package was announced late, causing problems for them to begin the hajj-related tasks on time.
On April 27, the civil aviation ministry announced that the hajj flight would begin from May 31.
State Minister for Civil Aviation Mahbub Ali on that day told reporters that Biman would operate 75 flights to carry half of the 57,585 pilgrims.
Saudia and Flynas will ferry the rest.