Recognise the mothers, housewives who stood by freedom fighters
Speakers call for documenting their contributions at event commemorating Musleha Islam, who helped the 'Crack Platoon'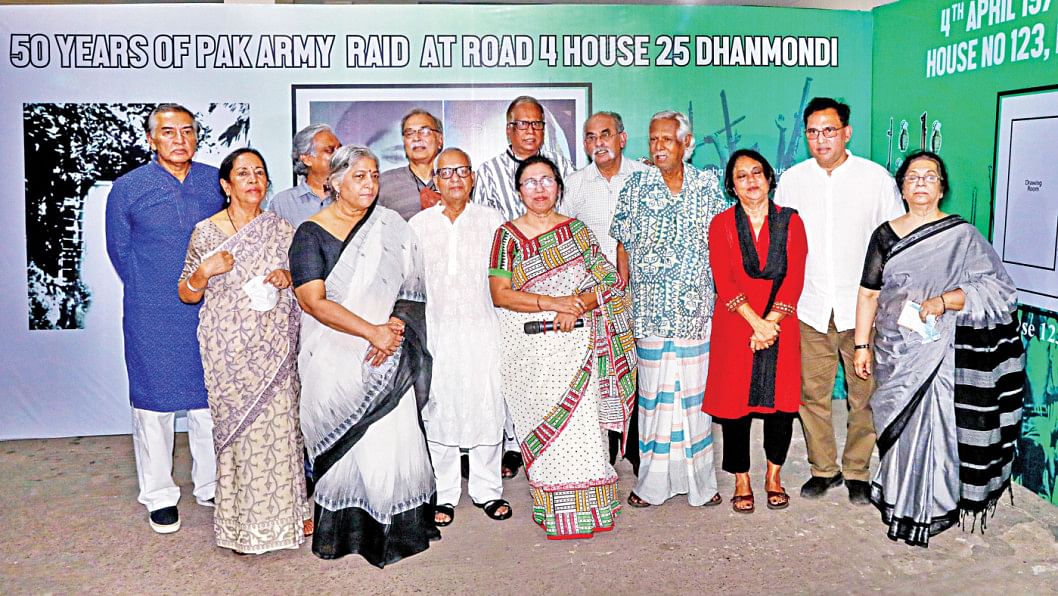 Musleha Islam supported freedom fighters not only by giving them shelter at her house but also arranging money by borrowing from relatives. She also cooked for them on numerous occasions and stitched quilts during winter.
Recalling the contributions of mothers and housewives, whose courageous support gave freedom fighters lifeline during the country's Liberation War, eminent citizens yesterday said untold stories of such individuals should be brought to the fore to inspire the post-Liberation War generations.
Addressing a commemorative event marking Pakistan army's raid on the house of Musleha Islam, who gave shelter to many Crack Platoon members and stored their firearms and ammunition during 1971, the speakers said the country's independence might have not been achieved without the courage of numerous mothers like her.
The family of Musleha Islam and members of Crack Platoon, a group that conducted major guerrilla operations against the Pakistan army, organised the programme titled "50 Years of Pak Army Raid at Road 4 House 25 Dhanmondi" in the capital.
Musleha Islam passed away on August 5, 2021 at the age of 93.
Wife of late Farukul Islam, Musleha Islam was widowed at the age of 30. During the Liberation War, the mother of four turned her house into a hub for Crack Platoon activities and a sanctuary for freedom fighters.
Recalling her courage, Crack Platoon member and eminent cultural personality Nasiruddin Yousuff said
freedom fighters could join the battlefield and subsequently snatch away freedom because thousands of mothers like her were beside them, giving them shelter in the trying time.
"Bangladesh is a map drawn from the experiences of crores of people during 1971," Nasiruddin said.
Whereas freedom fighters were in the battlefield and fought the enemies, the contribution of people during the country's Liberation War was also immense, he said.
The valiant freedom fighter said Musleha Islam showed bravery by not only letting her offspring join the war but also providing shelter to the freedom fighters and storing their firearms and ammunition at her house.
On August 29-30 in 1971, a number of houses, including the house of Musleha Islam in Dhanmondi, were raided by Pakistan army. During the raids, valiant freedom fighters including Shafi Imam Rumi, Altaf Mahmood, and Masud Sadique Chullu were arrested.
The Pakistan army had come to know that Musleha's eldest son Wasif Islam, a member of Crack Platoon, was involved in covert operations and had hidden arms and ammunition in the house.
Musleha faced the Pakistan army bravely and was able to save her youngest son Rizwan Faruk, who was at the house at that time, from being taken away by the army.
Recalling the early days of the Liberation War, Wasif Islam said he and some of his friends were looking for a place to store a few rifles, bullets and grenades.
It was Wasif who proposed that if a suitable place was not found, he would arrange space at their house.
"I told amma (mother) and she gave the permission instantly," he recalled, adding that his mother found a suitable place by herself to hide the weapons.
Musleha Islam supported freedom fighters not only by giving them shelter at her house but also arranging money by borrowing from relatives. She also cooked for them on numerous occasions and stitched quilts during winter, he added.
Wasif said his mother should be recognised as a freedom fighter for her contributions.
Another Crack Platoon member Shahidullah Khan Badal said the courage that Musleha Islam showed during the Liberation War was beyond their imagination.
"We could have been caught [by Pakistan army] had she refused to store the firearms," Shahidullah said.
Like her, numerous families, mothers and sisters had supported the guerrilla fighters in various ways, by providing shelter or hiding firearms, he said.
Moderating the event, Shaheen Anam, daughter of Musleha Islam and executive director of Manusher Jonno Foundation, said her mother had to struggle almost her entire life and raised her children as a single mother after their father's demise.
"It was she who taught us the values of life, patriotism and how to live life with dignity and honesty," she said.
Shaheen Anam said when the war broke out, her mother wasted no time to inspire her children. She spontaneously asked her eldest son to join the war.
Among others, Gonoshasthaya Kendra founder Zafrullah Chowdhury, Musleha Islam's son-in-law and The Daily Star Editor and Publisher Mahfuz Anam, Musleha Islam's youngest son Rizwan Faruk, rights activist Shireen Huq, Bengal Foundation Chairman Abul Khair Litu, Crack Platoon member Habibul Alam, freedom fighter Masud Sadique Chullu's wife Yasmeen Sadique, freedom fighter Bakhtiar Uddin Chowdhury, Prof Naila Zaman Khan, and freedom fighter Minu Billah also spoke at the commemorative programme.