Ratha Yatra celebrated in Ctg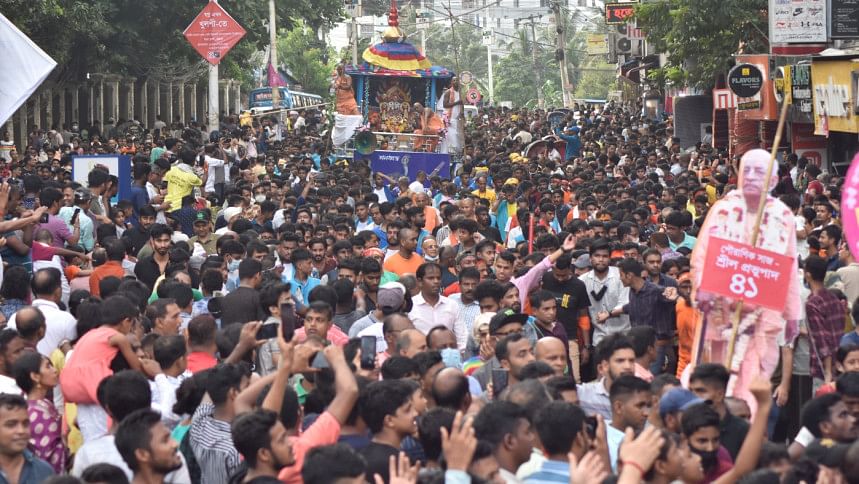 Tens of thousands of Hindu devotees today (July 1, 2022) celebrated the Ratha Yatra (chariot festival) in Chattogram city with a mammoth procession carrying the deities of Lord Jagannath.
With colourful banners, festoons, male and female devotees in traditional dresses assembled at Nandankanon Tulshidham intersection from different corners of the city, reports our Chattogram staff correspondent.
Devotees, Advaita-Achyuta Mission members, students of universities, schools and colleges also joined the procession along with banners.
An inaugural programme was held which was presided over by Mohant of Tulsidham Devdeep Mitra Chowdhury.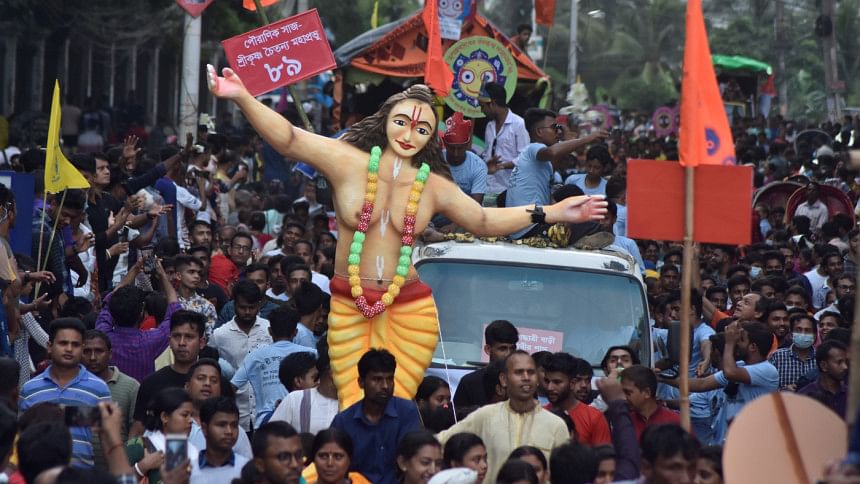 Former Chattogram city Mayor AJM Nasir Uddin was present at the programme as chief guest while CMP commissioner Saleh Mohammed Tanvir, Mohant Moharaj Srimat Kalipada Bhattacharya and Dr Binoy Paul were present as special guests.
Later, Indian Assistant High Commissioner in Chattogram Dr Rajib Ranjan inaugurated the festival.
The procession was brought out with decorated chariots at 3:30pm which paraded through different thoroughfares in the city. Tens of thousands of devotees were seen to attend the parade with the chariot. They were pulling the chariot. After parading the important thoroughfares of the city, it ended on the Rother Pukur Par premises.
In addition, ISKCON has organised separate Rath Yatra from DC Hill and Pravartak area.
The Hindus celebrate the festival every year to commemorate the annual visit of Lord Jagannath to Gundicha temple.