Put an end to lead pollution
Government urged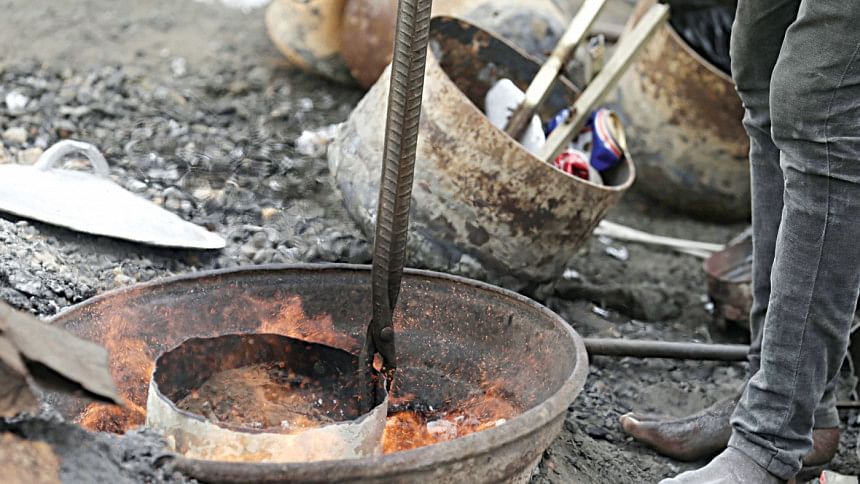 Policymakers, development partners and other stakeholders yesterday urged authorities to join hands to put an end to lead pollution, to protect every child's potential to flourish.
They made the call at a seminar titled "Together We Can End Lead Pollution, Protect Every Child's Potential" organised by Pure Earth Bangladesh -- with support from the Department of Environment (DoE), Directorate General of Health Services (DGHS) and Unicef -- at the auditorium of DoE in the capital.
The seminar came up with some grim data on how lead is wreaking havoc on people's health.
Thirty-six million Bangladeshi children are lead poisoned, and millions are at risk. Lead annually causes 38,000 deaths in Bangladesh. The country loses $15.9 billion in GDP due to productivity loss, which is a result of reduced IQ because of lead exposure, a seminar presentation showed.
Illegal, used lead-acid battery recycling factories are one of the major sources of lead pollution. Pure Earth's Toxic Site Identification Program has identified more than 300 toxic sites, while the World Bank estimates more than 1,100 toxic sites where the batteries are recycled in Bangladesh.
Dr Mahfuzar Rahman, country director of Pure Earth Bangladesh, emphasised the need for a formal recycling process for lead-acid batteries.
"Urgent intervention is needed in the used lead-acid battery sector to formalise the charging and recycling system. We can overcome this situation if we all co-operate," he added.
Dr Md Sohrab Ali, director of DoE's Dhaka Laboratory, said, "There is a lack of awareness among workers and owners in the informal battery-recycling sector. This sector is also not organised."
DoE needs a proper guideline to deal with the environmental and health crisis due to lead pollution, said Sohrab, who chaired the seminar.
Special guest Dr Chandrasegarar Solomon, health manager at Unicef Bangladesh, said, "Lead is an unseen enemy. It pollutes soil, air, and water. The contamination spreads through the food chain. Children are the worst sufferers."
Dr Mahbubur Rahman, project coordinator of icddr,b, said, "There is no safe limit of lead in a human's body."
The speakers also emphasised ensuring proper waste management, especially for industrial and e-waste.
The seminar also had a question-answer session, and video and slide presentations from different partner organisations.