Revival of Dhaka Circular Waterway: Possibilities aplenty but concerns remain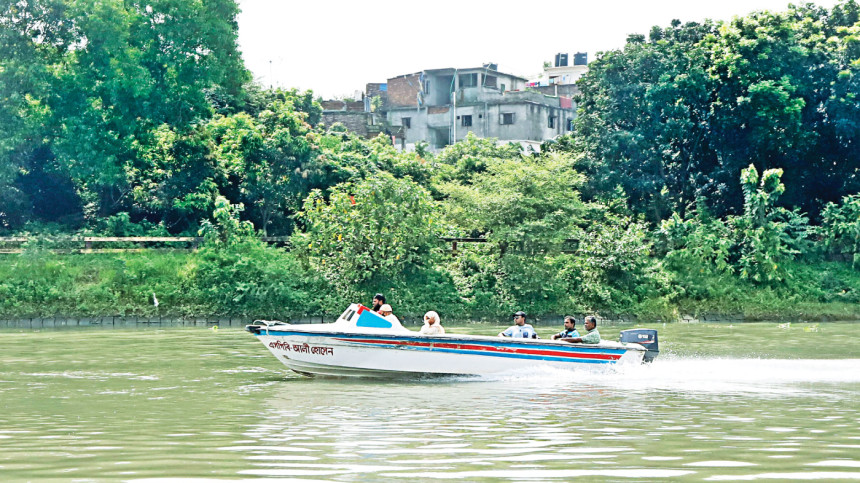 Mizanur Rahman, popularly known as Mia Bhai, is the owner of a private company called  Infinity Maritime.
They were well-known for helping passengers cross the Padma on the Mawa route, with their speed boats.
However, as the southerners rejoiced in the inauguration of Padma Bridge, it was bad news for Mawa's Mia Bhai. The opening of the bridge meant most of the people would not need his speedboats, to begin with. His fears came true, as his boats gradually became passenger less ever since.
When others in this sector almost gave up, Mia Bhai had an idea to bring his venture in and around the riverine Dhaka -- the buzzing capital of the country.
He saw an opening as not a single private company was yet to start any operations at the Dhaka Circular Waterway.
This resulted in the recent launch of a private speedboat service on the Dhaka circular waterway with 11 water vessels of Infinity Maritime.
"On one hand, the passengers will be benefited and on the other, my business will come back to life," he said to this correspondent.
Initially, speedboats will ply the two routes under the private initiative: Tongi, Abdullahpur-Kodda and Tongi/Abdullahpur (Gazipur)-Ulukhul (Kaliganj).
Fare for the Tongi/Abdullahpur-Kodda route, which will take 25 minutes, is Tk 150, while that for the Tongi/Abdullahpur (Gazipur)-Ulukhul (Kaliganj) route is Tk 120, which will take 19 minutes.
State Minister for Shipping Khalid Mahmud Chowdhury and State Minister for Youth and Sports Zahid Ahsan Russel inaugurated services at Tongi river port on September 10.
However, some experts are skeptical as they believe the service has been launched without any survey, and, speedboat movement may be disrupted due to solid industrial waste in Turag river.
Mohammad Azaz, chairman of the River and Delta Research Center (RDRC), said, "We've always wanted Dhaka Circular Waterway to remain active, but it wasn't possible due to the lack of sincerity of concerned authorities."
"This time, when private investment came into this sector for the first time, the same situation was seen. Speedboats were launched without any survey," he added.
"Turag's water-level will go down during the dry season. In that time, it will be difficult for boats to ply due to industrial pollution. Tongi canal should be excavated to facilitate movements in the waterway," he added.
Regarding the waterways' pollution, Mia Bhai said, "BIWTA told us that regular dredging will be done to maintain the river's navigability. If BIWTA cooperates, more investors will come forward. And if my company cuts a loss due to the authority's negligence, private investors will be discouraged."
Regarding speedboat service, State Minister for Shipping, Khalid Mahmud Chowdhury, said this service has already become popular among people. Every day 1,000 people are traveling on this waterway."
He added, "We've undertaken the dredging project there for the dry season. Hopefully there won't be a problem."
In 1999, taking into account the movement convenience of the capital's residents, the initiative was taken to launch the first circular waterway (Buriganga, Shitalakkhya, Turag and Balu rivers).
In December 2004, the work on the Sadarghat-Ashulia river route was completed. In the second phase, the work on the 40-km long waterway from Ashulia to Tongi was expected to be completed by 2012, but the deadline had to be extended several times.
When the waterway was opened for vessels in full swing, it never achieved anything close to its potential because of multiple factors, which include -- river filling, navigation crisis and lack of maintenance.