Everyone can speak freely on talk shows: PM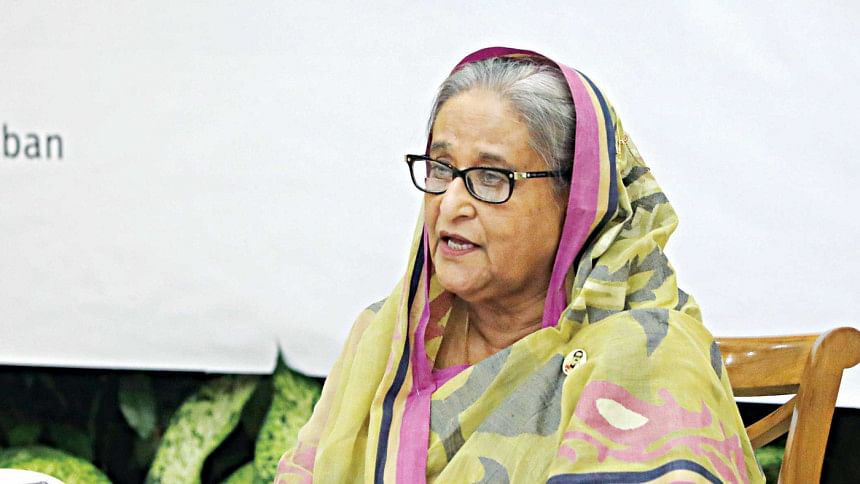 Prime Minister Sheikh Hasina yesterday said everyone can speak freely and participate in TV talk shows.
"But I know that after talking a lot, you will say that we are not allowed to speak. When you speak on a talk show, no one gags you," she said.
The premier was addressing the opening session of the 2nd National Conference on SDGs Implementation Reviews at the capital's Bangabandhu International Conference Centre.
Joining the function virtually from the Gono Bhaban, Hasina said everyone can say whatever they want to.
"So, I will urge everyone please visit whole Bangladesh, go to villages, see the condition of the people there and then you will probably know if you want to speak."
Mentioning that many people criticise sitting in Dhaka, she requested the critics to travel across the country to see the development of the people. "If you communicate with people in rural areas, you will know everything."
Lauding the private sector for playing a vital role in keeping the wheel of Bangladesh's economy moving, Hasina said the investment climate has already been made more conducive to them.
"Once the mega projects for infrastructure development are fully implemented, the private sector will have more dynamism," she said.
Replying to critics of mega projects, the PM said they only see the expenditure without considering the people's benefits from this spending and its contribution to the economy.
The premier called for taking effective initiatives to ensure that international commitments are appropriately met for the implementation of the Sustainable Development Goals (SDGs).
Hasina also stressed the need for ensuring the best use of funds and preventing its waste as well as continuing policy support and funding for the implementation of SDGs.
She said her government will be able to achieve the goals before 2030 provided all work together.
The PM mentioned that Bangladesh's success in implementing the Millennium Development Goals (MDGs) improved its image internationally.
"Our government is committed to implementing the Agenda 2030 or the Sustainable Development Goals to continue this pace of development," she said.
Hasina said Bangladesh has already made significant progress in formulating plans and strategies to implement the global development agenda for the 2016-2030 period.
Referring to the changed scenario due to the Covid-19 pandemic and Russia-Ukraine war which is leading the entire world into an economic recession and hit on the economy, the PM asked all to ensure optimum use of arable land and maintain austerity in using water, electricity, and food.