Padma Bridge opening: Thousands arrive at Madaripur's Kathalbari Ferry Ghat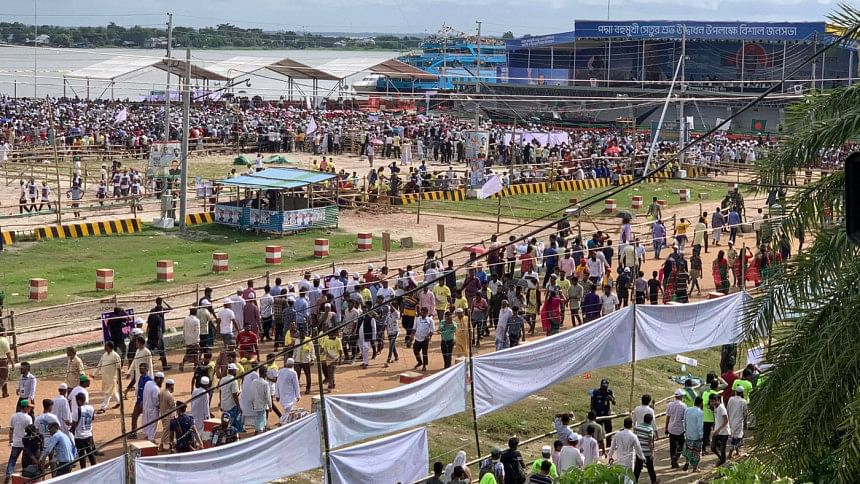 Thousands have started joining the mammoth rally since early morning today (June 25, 2022) at Kathalbari Ferry Ghat in Madaripur, on the occasion of Padma Bridge opening.
Boarding buses, launches, boats, battery-run three wheelers and other modes of transport, people from all walks of life and leaders of Awami League and its associate bodies thronged the rally venue since 6am.
Several hours before Prime Minister Sheikh Hasina's scheduled appearance at the rally, at 12pm, a huge number of people started entering the venue – gradually turning it into a human sea.
The gathering wore a festive look as people from different parts of the country, especially from the southern districts, started thronging the venue with colourful banners, festoons and AL's election symbol "boat".
Due to tight security measures, no one was allowed to carry those banners or placards inside the rally venue, an official of Rapid Action Battalion, told The Daily Star.
Braving the heat, people were seen joining the rally while shouting slogans, singing songs and dancing to the tune of musical instruments.
People who gathered there earlier received others with repeated clapping.
Boats decorated with colourful sails were seen on the Padma river, around Kathalbari Ferry Ghat.
The venue and adjacent areas have been decorated with lighting and large balloons.
The rally venue is being secured by law enforcement agencies. The stage and adjacent areas are being monitored by CCTV cameras.
Large screens have been installed at corners to broadcast the rally proceedings.
A spectacular stage – 150 feet long and 40 feet wide – was built in the style of the Padma Bridge at the rally venue. A huge boat is floating on water right in front of the stage. The stage was made by placing 10 spans on 11 pillars next to it.