Over 70% teenagers exposed to cybercrimes: survey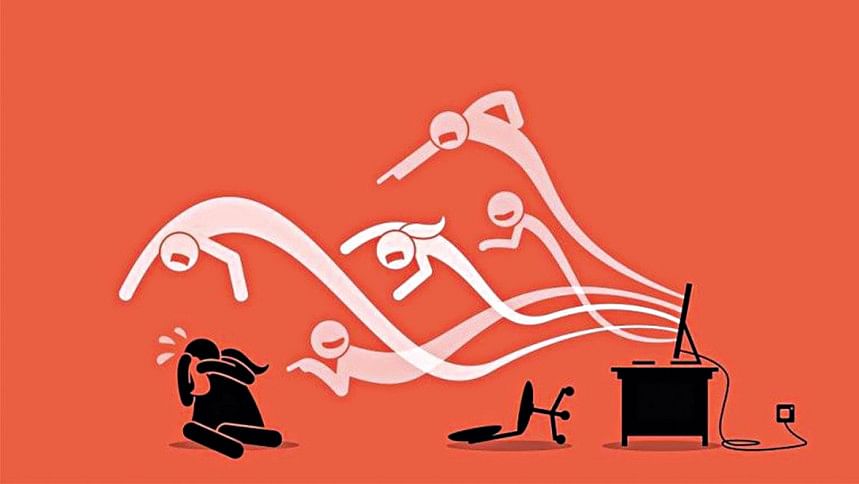 More than 70 percent of teenagers were exposed to cyber-stalking, bullying, or blackmail online, while around 75 percent said they or their seniors or peers had sent or been asked to send explicit messages, photos, or videos, according to a recent survey.
Only 13.4 percent of the victims sought help from their parents and 15.9 from their teachers. Only 7 to 35 percent said they are willing to seek help from law enforcement, police cybercrime units, or dedicated apps, helplines, or websites.
The survey was conducted by Prof Sumon Rahman, Mahmudunnabi and Dilshad Hossain Dodul, faculty members of the University of Liberal Arts Bangladesh's (ULAB) Department of Media Studies and Journalism.
The survey was a part of a research project funded by The Asia Foundation under Centre for Critical Qualitative Studies of ULAB.
According to the Bangladesh Telecommunication Regulatory Commission, the number of internet users in Bangladesh increased by 26.21 million from January 2020 to August 2021.
A large proportion of them are presumably teenagers who have newly acquired internet access for academic purposes due to the closure of schools and colleges amidst the pandemic, said Dilshad Hossain Dodul.
The survey was participated by 298 individuals aged 13 to 19 at Bhairab, Barisal, Satkhira, Jessore and Sreemangal, followed by a focus group discussion with 25 participants.
A total of 86.6 percent of the respondents reported that they fear the risk of getting exposed to cybercrimes.
The survey also found that teenage girls are less aware than boys about the risks of cyberbullying, stalking, harassment, sexual abuse, production and consumption of illegal and non-consensual materials.
Last year, Police Headquarters initiated a helpline through email, Facebook page, and a hotline number for providing support to women regarding cybercrimes.
According to Cyber Support for Women data, since November 2020, 12,641 complaints were filed till October 2021 related to fake IDs, ID hacking, blackmailing, obscene contents etc.
14 percent of the complaints came from teenagers, said Meer Abu Touhid, additional inspector general of Lawful Interception Cell of PHQ.
Contacted, Dr Md. Omar Faruk, professor of Criminology and Police Science at Mawlana Bhashani Science and Technology University said that they too conducted a study among girls about cyber harassment earlier in 2019.
"We found that 65 percent of girls faced bullying and sexual harassment in cyberspace," he said.
"There should be academic involvement to bring awareness among the students through seminar symposium or including co-curriculum activities about what would be harmful to them on the internet," added Dr Faruk.