One for empathy and kindness
Shomman Foundation recognises four persons with "Kindness Award"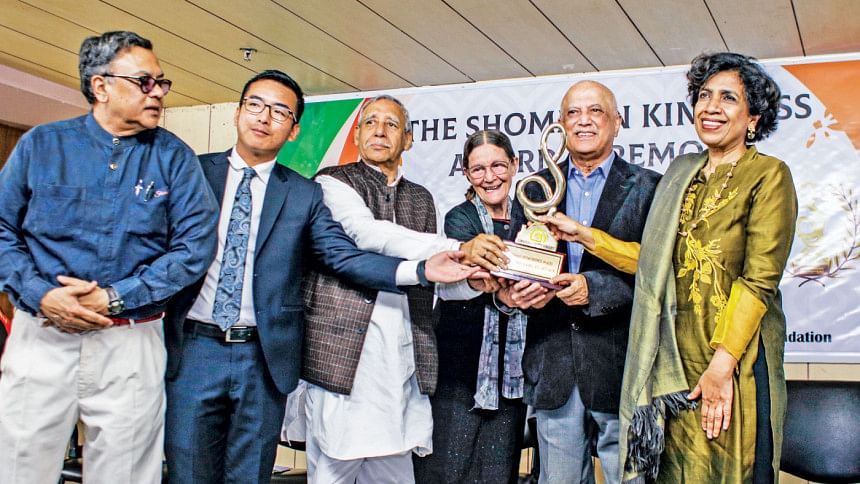 Four distinguished individuals, including an Indian national, were recognised with the "Shomman Kindness Award" yesterday for their philanthropic acts that helped bring changes to countless lives.
Shomman Foundation, a philanthropic organisation, recognised the individuals during a ceremony at The Daily Star Centre in the capital, attended by eminent personalities from different professional backgrounds. The ceremony started with a couple of performances by a group of differently-abled children.
At the ceremony, National Prof Brig (retd) Abdul Malik was awarded the "Shomman Lifetime Kindness Award".
Prof Malik is the founding chairman of National Heart Foundation of Bangladesh. He is known as the architect of modern cardiac healthcare in Bangladesh.
Prof Malik, who is in his 90s now, could not attend the ceremony due to health-related issues. On his behalf, his daughter Prof Fazila-Tun-Nesa Malik received the award.
Prof Fazila-Tun-Nesa said her father's motto while establishing the heart foundation in the 1970s was "service to humanity is service to God".
"You can achieve greatness and goodness through kindness and that is what he [Prof Malik] has done throughout his life," she added.
The foundation also recognised Indian national Subash Mani Singh with "Shomman Kindness Award (2020-2022)".
Subash is a social reformer in India's Darjeeling and Kalimpong, where he has been working for the distressed in the hills.
The organisers also recognised late development activist Zahin Ahmed and late physician Jogesh Chandra Ray with "Shomman Kindness Award (2018-2020)".
Zahin passed away in November 2018, after suffering from cancer and Jogesh died in November 2020 after being infected with Covid-19.
Rubaiul Murshed, founding chair of Shomman Foundation, said there was a time when people would only talk about the gross domestic product and forgot the concept of "gross happiness".
"Now, we have started to realise that GDP is not everything. We need happiness as well, which is directly linked to kindness," he added.
Quoting from a Dalai Lama verse, Valerie Ann Taylor, a globally-known philanthropist and founder of Centre for the Rehabilitation of the Paralysed (CRP), said, "Once you have a genuine sense of concern for others, there's no room for cheating, bullying or exploitation. Instead, you can be honest, truthful and transparent in your conduct."
Valerie said at CRP, one of their core values is compassion as Dalai Lama's teachings always ask people to be compassionate.
She hoped in addition to their specialities of treatment and rehabilitation such as physiotherapy, occupational therapy, and speech and language therapy, compassion will also shine through their work.
Speaking at the ceremony, Editor and Publisher of The Daily Star Mahfuz Anam said the activities of Shomman Foundation are "a movement to change thyself".
He hoped that people will understand the message from the foundation's activities and instil good virtues within themselves.
Prof SK Sanyal, president of All India Harijan Sevak Sangh in New Delhi, hoped the foundation will be able to spread its activities all over Bangladesh.
He said across the region, the Covid-19 pandemic has unearthed a new layer of kindness as many young volunteers have risked their lives to provide food to those in need, even amid the lockdown.
Sherab Dorji, second secretary at the Bhutanese Embassy in Dhaka, said his country has taken "gross national happiness" as a development philosophy, which was first articulated by the Fourth King Jigme Singye Wangchuck in the 1970s.
Since then, the idea of gross national happiness has significantly influenced economic and social policies in Bhutan, he added.
Ahmed Mushtaque Raza Chowdhury, former vice-chair of Brac, said Shomman Foundation's effort to reach domestic helps, who are hard to reach, is a unique initiative.