No one should be living here
Nilphamari forest officials residing in dilapidated buildings
Weeds and bushes have taken over the buildings, making them a safe habitat for poisonous insects. The plasters have already fallen off, revealing the inner bricks and iron rods, while doors and windows no longer exist.
This is not the story of some spooky structures one sees in a horror film, rather they are offices and residents of government officials working for the social forestation and nursery department in  Nilphamari's Saidpur upazila.
The Public Works Department declared these structures abandoned a decade ago. The offices and five residential quarters were  built way back in 1982 in Kundol area, beside Rangpur-Dinajpur highway. Since then, no renovation work has ever been done.
However, it's mandatory for forest department officials to live in their designated quarters, which are set up in forests adjacent to the  nurseries, where thousands of saplings of various trees are grown. Their job is to look after the wildlife, which cannot be done by residing in other areas.
Braving all odds, the forest officials of Nilphamari live in these dilapidated buildings, away from their families.
Visiting the place recently, this correspondent saw that some residential staffers have hung polythene sheets  below the roof, a desperate attempt to save their belongings and themselves from rain, sun and concrete particles falling from the ceiling.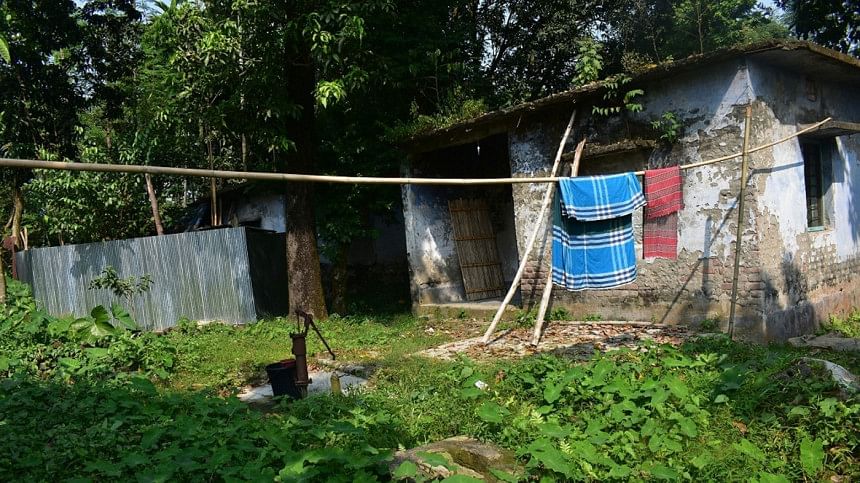 Weeds, bushes and tall grass were sprouting from most of the buildings, in a way that will prevent anyone from believing that people actually stay inside. Wet clothes were lined up on a rope in front of the yard, the only thing which showed signs of human life inside.
Shahiqul Islam, the in-charge of this department, who lives in a crammed  space behind his office, said, " Seven, including two government officials, live in a terrible condition in these buildings. Our demand for a better living condition has repeatedly fallen on deaf ears of the authorities concerned."
"When we work inside the office, sometimes concrete from the ceilings falls on our tables, which can cause an accident any time. Then comes the concern of poisonous insects," he said.
Aslam Hossain, a forest guard, was bitten by such an insect a few months ago, making him severely sick for a long time, he added.
Contacted, Divisional Forest Officer in Rangpur Md Motlubar Rahman said, "We are planning to construct new buildings soon."