Moody's sounds alarm bells on banking sector
Downgrades outlook on banking system to negative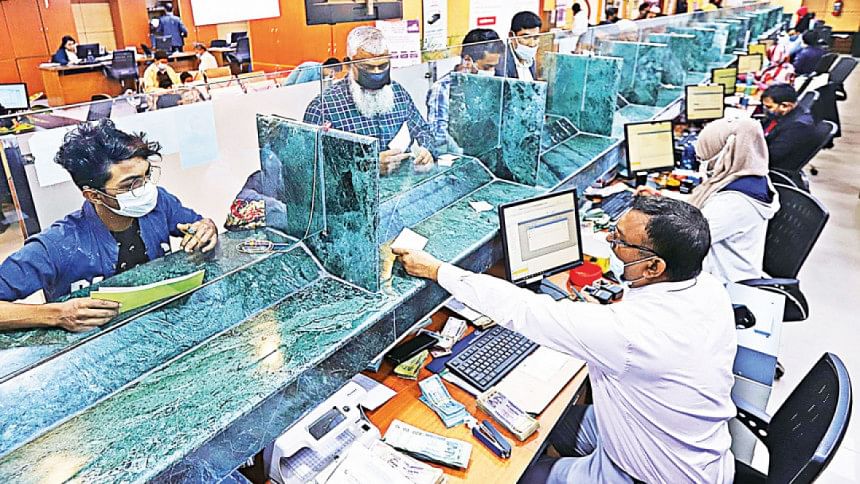 Major global rating agency Moody's yesterday downgraded its outlook of Bangladesh's banking system from stable to negative -- a crushing development that is set to make foreign transactions trickier and costlier for businesses and banks.
This comes after the New York-headquartered agency in December last year lowered the ratings of Social Islami Bank and put up the ratings of seven Bangladeshi banks' under review for downgrade.
"Moody's have rightly downgraded the outlook -- the international financial institutions are concerned about our banking sector," said Ahsan H Mansur, chairman of Brac Bank, one of the seven banks bracing for a rating downgrade.
The implication of this is transaction costs for foreign trade financing will increase, which, in turn, means the cost of business will go up.
"This outlook downgrade has reaffirmed our correspondent banks and our international partners' assumptions about the strength of our banking sector," said Syed Mahbubur Rahman, managing director and chief executive officer of Mutual Trust Bank.
There might be problems with international payments, particularly with confirmation of letters of credit.
"Already, we have been impacted. For dollar shortage, there were instances when we couldn't pay even after the instruction went -- those were viewed as default."
So many foreign institutions are curtailing credit limits for Bangladeshi banks or declining to increase limits.
Besides, foreign investors will avoid local banks for handling their money in Bangladesh after this downgrade, Rahman said.
"Outlook changed to negative as asset risks grow and liquidity tightens amid deteriorating economic conditions," Moody's said in its latest report.
The negative outlook also reflects the government's diminishing capacity to provide support for banks because of its deteriorating external position and growing liquidity risk.
Moody's forecast GDP growth will slow to 5 percent this fiscal year and 5.5 percent next fiscal year on the back of a weakening of export growth, high import prices and inflation.
"As a result, the country's current account deficit will widen, and its foreign exchange reserves will decrease, weakening its external position."
Foreign currency liquidity in the system will remain tight as the outflows of dollars for settlement of import bills will outpace inflows from export receipts and remittances.
Further, high inflation will hamper deposit growth as rising costs of living erode households' savings.
The tightened liquidity conditions will intensify competition for funding among banks, which in turn will impact banks' profitability.
Stressed assets will increase as businesses, to which banks have large exposures, face slowing external demand as a result of inflation in key export markets and rising costs due to high import prices.
Compounding matters are structural weaknesses such as lax regulations and poor corporate governance.
"As a result, we expect that stressed loans, which include performing loans with modified payment terms, in addition to nonperforming loans (NPLs), will increase."
At the same time, systemwide loan-loss reserves as a proportion of NPLs is low at 56 percent as of the end of September 2022 and will provide limited buffers against rising loan losses.
Loan-loss provisions will increase as asset risks grow.
"Banks' current capital levels, however, are modest, providing limited buffer against large, unexpected loan losses."
State-owned banks will remain undercapitalised because of their weak earnings capacity resulting from high levels of NPLs and the absence of government capital infusions, Moody's added.
"We need to improve on our overall practices. If we can't bring any changes, it will be very difficult to become positive again," said Rahman, who served as the chairman of the Association of Bankers, Bangladesh for 2018 and 2019.
The rating agencies' outlook will continue to get worse if the macroeconomic situation is not stabilised and the dollar crisis is not solved at the earliest, said Mansur, a former economist of the International Monetary Fund.
Moody's has also put Bangladesh's yearslong Ba3 rating under review. Should the country's sovereign rating be downgraded too, it would take the Bangladesh economy back by decades.
"Our problems will be solved if we faithfully implement IMF's conditions."
That would improve banks' financial strength and increase the dollar flow.
"It will take at least 2-3 years to come out of this. We already got a bad name. We have to go to the right path but we are not that way," said Mansur, also the executive director of the Policy Research Institute.
The central bank is working on implementing all the IMF reform prescriptions for the banking sector, said its spokesman Md. Mezbaul Haque.
"There will be institutional reforms, there will be some amendment to the laws. We are hopeful we would be able to carry out all the reforms -- for our own interests."