Mobile Kitchen Market: 100 rickshaw van pullers get jobs
Programme aimed at keeping people at home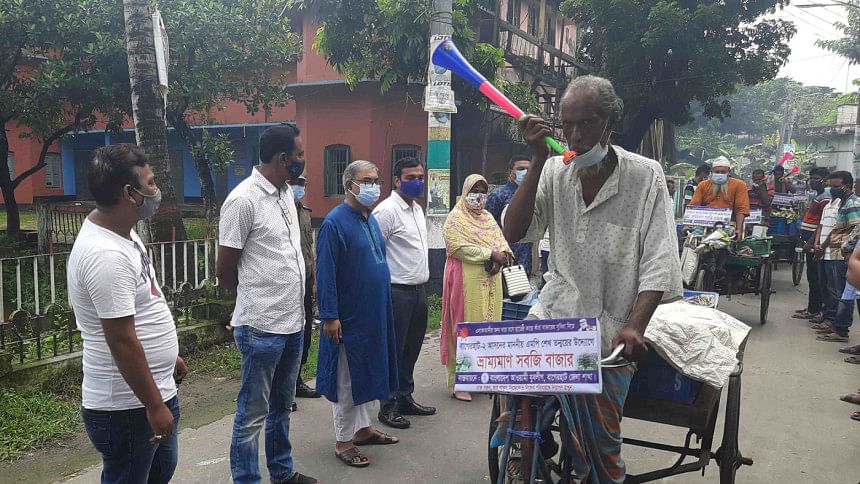 A mobile kitchen market has been launched in Bagerhat town's Swadhinata Udyan yesterday to cater to the people stuck at home during the lockdown.
Over 100 rickshaw van pullers who have lost income due to the lockdown turned their vehicles into mobile stores.
The programme was inaugurated on yesterday morning in front of the town's Swadhinata Udyan at the initiative of Bagerhat-2 MP Sheikh Tanmoy.
UNO of Bagerhat sadar Mohammad Moshabberul Islam said, "We have seen people out of homes to buy daily essentials … . The mobile market that has been launched will play a role in stopping some people from coming out for daily essentials. We can tell people that vegetables and essentials are available close to your homes. The lockdown also created a kind of employment for the unemployed rickshaw van pullers."
Bagerhat Sadar Upazila Parishad Chairman Sardar Nasir Uddin said the mobile market would be introduced in every upazila of the district in phases. Through this, people will get their daily necessities at home.
Rickshaw van pullers Bakul, Selim, and Mafuj said they stopped going out for work during the lockdown and their families fell into hardship. Now they have a way to earn their bread.