Jamuna turns furious in Sirajganj
Lives upended, homes swept away
Erosion of the Jamuna river has taken a serious turn in Sirajganj.
In the past month, the river has devoured homes and farmland in the villages of Brammongram, Arkandi, Pachil, and adjoining areas of Khukni, Jalalpur, and Koijuri unions in Shahzadpur upazila, rendering over 100 families homeless.
Md Abdus Shukur, an erosion victim in Brammongram village, said, "The river appeared calm, with no signs of flooding, but it suddenly became fierce and eroded nine houses in one night, catching most villagers off guard."
Md Ramjan Ali, another erosion victim, said, "In the past three to four weeks, the Jamuna has devoured approximately 25 to 30 houses in Brammongram village, forcing residents to seek shelter in different areas along the river."
Md Nuruzzaman Gadon, a resident of the erosion-hit Arkandi village, found refuge by the roadside in the village.
"I have become homeless and lost everything due to the sudden erosion. Not only my house but also the crop land, trees, and everything around my home has been swallowed by the river."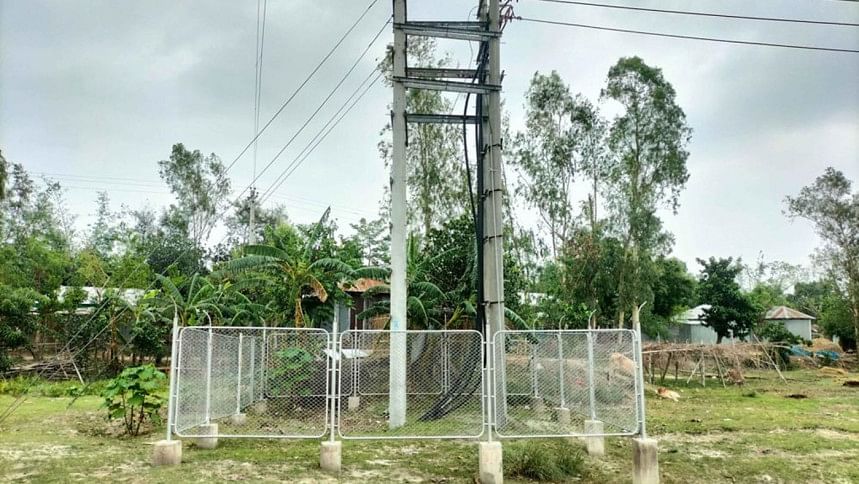 UNO Sadia Afrin of Shahzadpur confirmed that around 100 families have been left homeless due to the erosion. The worst affected are the residents living along the river banks in Kukni, Jalalpur, and Koijuri unions.
"I have instructed the UP chairmen in the affected areas to prepare a list of erosion victims, and they are currently working on it," she said.
WDB workers have been placing sandbags to protect residents from river erosion. However, the villagers have criticised the poor quality and insufficient quantity of sandbags, claiming that they are not enough to safeguard the vast riverbanks.
Md Milton Hossain, a sub-divisional engineer of the Sirajganj WDB, said a permanent protection project is underway in a six-kilometre stretch from Enayetpur to Pachil.
Tk 40CR POWER STATION IN DANGER
The power substation established at Kollanpur char in Pabna's Bera upazila is facing a threat from river erosion. The government had set it up at a cost of Tk 40 crore to supply electricity through a submarine cable to around 12,000 people residing in shoal areas of Pabna and Manikganj districts since 2001.
The entire project, including the submarine cables, cost Tk 70 crore.
The soil erosion in the area has already affected the submarine cables, said Md Mujibul Haque, general manager of Pabna Palli Biddut Shammittee-2.
"We have taken the initiative to relocate these structures to protect them from further erosion," he said. "We have repeatedly urged the WDB to take action to prevent river erosion and safeguard the power substation, but they have not taken any steps," he added.
Shudhangsh Kumar Sarkar, the executive engineer of the WDB in Pabna, refuted the allegations.
Amidst the threat of erosion, red flags have been hoisted in the affected areas.
Meanwhile, people of Char Kollanpur village recently staged a demonstration, demanding proper measures to save the char.