Leaving the glitzy city for now
Unemployed, they have no option but to head back to village homes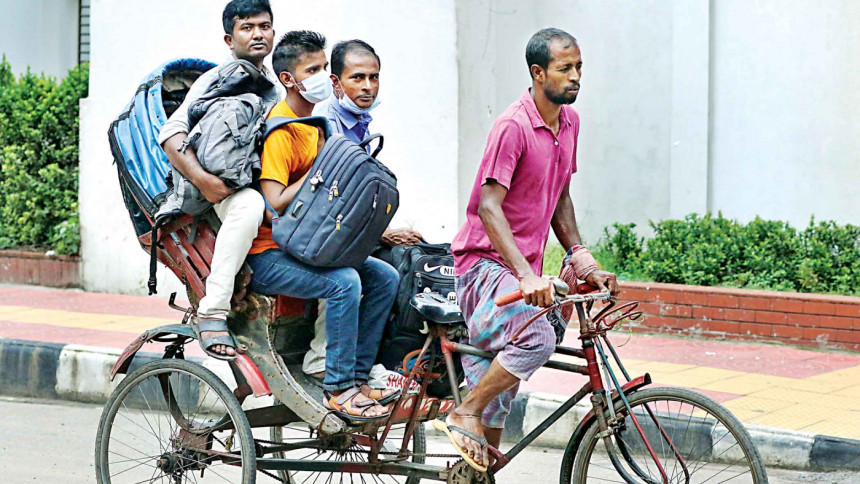 Al-Amin worked at a metal ornament factory in the capital's Lalbagh area for 15 years.After the pandemic struck Bangladesh and the factory incurred losses due to a fall in sales, the factory had to eventually close down two weeks ago, leaving the 26-year-old unemployed.
"Since then, I have been searching for another job, but I am failing."
The sole earner in a family of five, Al-Amin lived with his family in a rented house at Tk 10,000 per month in the same area.
"After losing my job, I had to take loans to clear the rent and run my family. As another lockdown has been enforced, there is no chance of me finding another job anytime soon. So, it is not possible for me to stay in Dhaka."
And so, Al-Amin and his family rented a pick-up, loaded their household amenities and left for their village home in Shariatpur's Jajira upazila on Wednesday.
"We will come back to Dhaka once the lockdown is over and I can find a job again," he told The Daily Star, while he waited to leave the capital with his family at Munshiganj's Shimulia ferry terminal.
Like him, many have left Dhaka over the last few days before the lockdown began yesterday, fearing unemployment and unaffordability of living in the capital.
The country's two major ferry routes -- Paturia to Dauladia and Shimulia to Banglabazar – witnessed a huge flow of home-goers in the last couple of days.
As operations of public transports remain suspended, they were seen travelling on different small vehicles such as private cars, pick-up, CNG-run auto rickshaws, motorbikes and rickshaws.
Ratul Hasan, from Rajbari, spoke to The Daily Star at the Paturia ferry Terminal.
"I work in a tailoring shop in Dhaka. As the shop will remain shut during lockdown, my employer will not pay me wages… If I don't get any money, how will I survive in Dhaka? That is why I am going to back to my village and will return when things are back to normal."
Another such victim of unemployment was Jahid Hossain, who worked at a garage as a mechanic. His employer had to recently terminate as the garage's workload dropped due to the suspension of vehicular movement.
"How will I run my five-member family and pay house rent? So, I have no alternative but to return to my village home." 
Jahid was heading towards Faridpur from Shimulia terminal on Wednesday morning.
Another home-goer, Mohammad Sohan, said, "I work in a furniture shop in Dhaka. My employer has let go of me as our shop will remain closed. "
Private car driver Sumon said, "As I will not be able to drive during the lockdown, there is no point staying in the city. I would rather return to my family in my village."