Learning Bangla made easy: Bangladeshi-Canadian's app gaining popularity among NRBs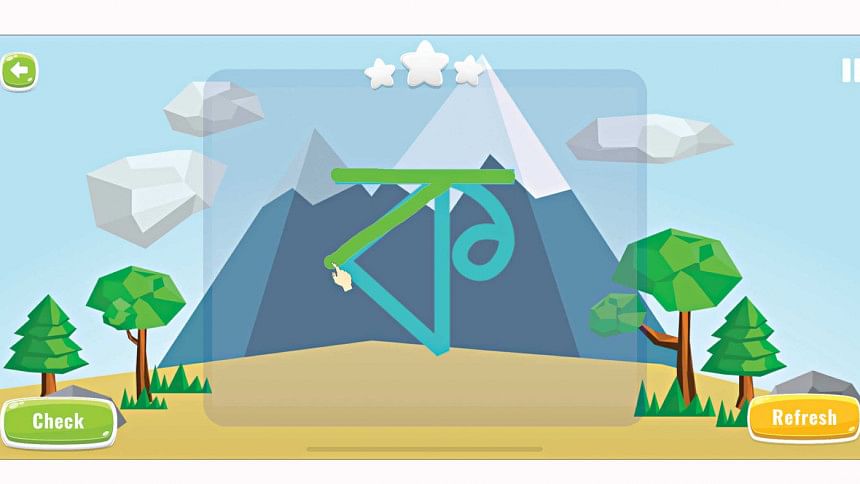 An amusing incident unfolded on March 30 at Farhana Rajib's home in Minneapolis, US. Her mother-in-law Shawkat Ara Begum received a note from her 12-year-old granddaughter Ella Rajib. Handwritten in Bangla, the note read: "Dida darun boka" (Grandma is very silly).
Instead of being upset, Shawkat Ara gave her granddaughter a big hug, said Farhana.
She said her 74-year-old mother-in-law was surprised because her granddaughter, born and brought up in the US, could hardly speak Bangla, let alone read and write in the language. But within a week of using Bangla Iskool, Ella learned to write a full sentence in her mother language.
Bangla Iskool, an app which aims to teach Bangla to children of Bangalee immigrants, was launched in Apple's App Store in February and on Google Play store in March. So far downloaded to more than 1,200 devices, the app is getting the attention of Bangladeshi children growing up abroad.
The idea of the app occurred to Razeeb Hasan Chowdhury, CEO of Bangla Iskool, from his own experience of trying to teach the language to his son. When Razeeb migrated with his family to Canada in 2016, his son Jeeyon Chowdhury, who was only four then, spoke Bangla.
But gradually as he started school, Jeeyon started forgetting Bangla, said Razeeb. When Razeeb and his wife tried to teach the language to Jeeyon, they discovered that children, exposed to modern technologies, do not relate to the language the way it is traditionally taught.
Razeeb adopted new ways. He shuffled the letters around and instead of starting with the vowels, Razeeb started with an easy to write consonant like 'Bo', which is basically a triangle, he said. Then he incorporated games in the learning process to make it enjoyable.
The new method caught up with Jeeyon in less than three weeks. It also worked with some of his friend's children there.
"So, the question came: Why can't we make it a product that can be accessed all over the world?" Razeeb said.
The first module of the app has 52 lessons, each of which teaches one letter or one sound with video tutorials, writing modules and games. The app also has an e-book library with easy to read books.
One of the challenges in the development process was finding e-books without "juktaokkhor" (compound letters) for beginners, said Razeeb.
Thankfully, many Bangladeshis from home and abroad came forward to help Razeeb create the contents for the app by writing books and illustrating often at prices lower than the market. He said most people helped him out of love for the language.
Mashroof Hossain, additional superintendent of police, is one of them. Mashroof said Razeeb's endeavour inspired him to write. He recently wrote "Sada Bhoot" (White Ghost) for Bangla Iskool.  
The friendly face in the video tutorials is that of Rafia Mahzabin, a young Bangladeshi-Canadian living in Vancouver. She flew to Toronto for the shoot with Razeeb's son Jeeyon.
"They were looking for someone who can speak Bangla, understand it and also can talk to kids from here," Rafia said, explaining that children growing up abroad are used to a different style of interaction.  "They look for a certain type of enthusiasm," she added.
Since the app was launched, Rafia said she received a lot of positive feedback from people whose children are using Bangla Iskool.
In fact, Rafia's sister-in-law, 26-year-old Fariha Khondaker, who moved to Canada with her parents at the age of four, is also using Bangla Iskool.
Growing up, she too could not learn Bangla, although she speaks and understands the language.
Now as a grown up she feels disconnected with the culture at times. "When my friends send me memes or some funny pictures or videos, I can never understand it. They have to translate it for me," she said.
Though Bangla Iskool is meant for children aged five to 14, Fariha said the game Bagadoolia is a motivation even for adults.
"Watching the videos, you learn how to say the words, then the next stage is to write the words and the next stage is you play a game. So you are more motivated to learn the words so that you can play these games," she said.
In fact, Singularity, the Bangladeshi firm that transformed the app from a concept to a digital product, had to incorporate millions of words in the app's database.
Zafir Shafee, co-founder of Singularity, said they had to reschedule the launching date several times to manage the enormous task of transforming Bangla Iskool from a concept to a product by integrating different types of resources from different places around the globe.
Soon subscribers will be able to pay for the app not just directly through their android but also their Apple devices, he added.
Currently, the first class is free and then each subsequent class costs $10. The app and all the services now being offered cost $275.
Talking about her motivation for spending money to teach Bangla to their kids, Farhana pointed out that a common language bridge is necessary to continue the legacy of Bangla from one generation to the next. Until Bangla Iskool, she did not find anything that her children would like or at least try, she added.
Razeeb expressed his hope that the competitive aspect of the app would also make it interesting to children of English medium schools in Bangladesh.
"I think this is the only language learning app focusing to teach a mother tongue and to make the mother tongue cool to the newer generations," he said.