It's a floral affair
Flower sellers passing busy times on New Year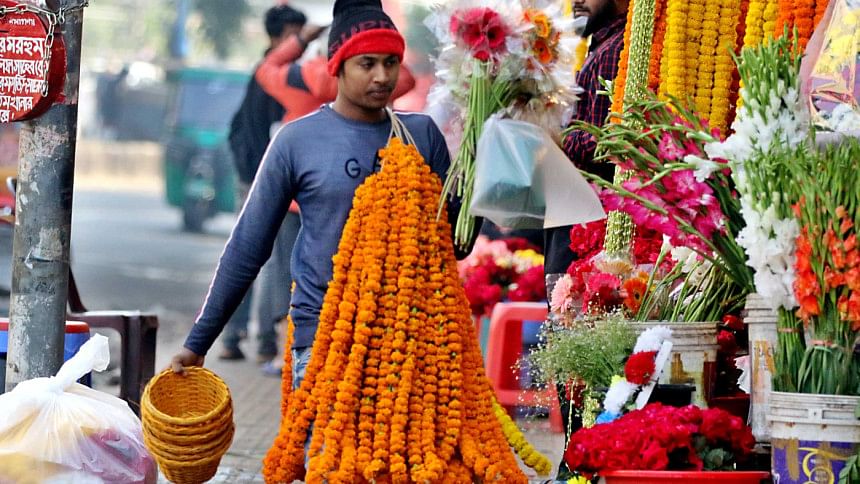 The grass is graced by dew at dawn. Leaves are falling from the tree. Calendars are no longer holding up. A change of guard is right around the corner. So is the New Year, 2022.
But the New Year can be mechanistic too. For our fast-paced world, a change in the calendar comes with a lot of professional implications. And so for many, this is the time for new plans, new resolutions.
But amid all these calculations, a simple look around can bring some solace. The dry season brings with it flowers everywhere one looks, from the tub at the balcony to the lone plant in the abandoned garden.
The florists at the capital's Shahbagh and Baily Road are also at it with their roses and sunflowers.
Just a couple of days ago, a walk down the Ramna Park would show you the early blossoms of this season's flowers. There were aromatic roses. Chrysanthemums. Finally, the yellow marigold is welcoming spring properly.
All these flowers are inviting over butterflies. Their fluttering all around is only adding to the feeling in the air.
Those who don't grow their own flowers are rushing to flower shops to buy fresh ones for their loved ones. Talking to this correspondent, florists said business has been picking since the last few days, even before the New Year has actually arrived.
Roses are one of the main attractions of winter. Although they bloom all year round, there's something special about them in winter. And how can one talk about roses without mentioning Savar's Birulia, the rose village. Specialising in rose farming, this is the season when the entire village sees an outpour of orders.
Traders at Shahbagh said as flowers rot fast, they're not sold in advance. But despite this, they're seeing a huge number of orders ahead of the New Year.
Visiting the spot on Wednesday, this correspondent found the florists there smiling after a long time. This smile went missing during the lockdown of the last two
years but is coming back as business picks up for 2022.
They said they've started to sell their collection of roses, marigold, gladiolus, calendula, orchid and more since early morning, both in retail figures and in bulk.
Shefali Phul Ghar, Anika Pushpa Bitan and Eco Flower Shop stand side-by-side at Shahbagh's flower hub. They're usually pretty popular even on regular days, and ahead of the New Year, customers are coming here all day.
Crowds were noticed in front of Shapla Pushpa Kendro, Phul Bahar Pushpa Kendro, Phultala Flower House, Phultala Flower Shop, Nilkantha and more.
According to Shahbagh Bottala Small Flower Traders Association, from Shahbagh Mor to Shishu Park Gate and Shahbagh Police Station gate, there are around 51 flower shops.
Its president Abul Kalam Azad told this newspaper, business is always good from December to April. For the rest of the year, sales come from Wednesdays, Thursdays, and Fridays, as these days see the most number of wedding and other ceremonies.
He suggested that our readers buy a bouquet for their loved ones to mark this step into the New Year, and say Happy New Year!