'It took them seconds to steal a phone'
Says DB after arresting 3 members of theft gang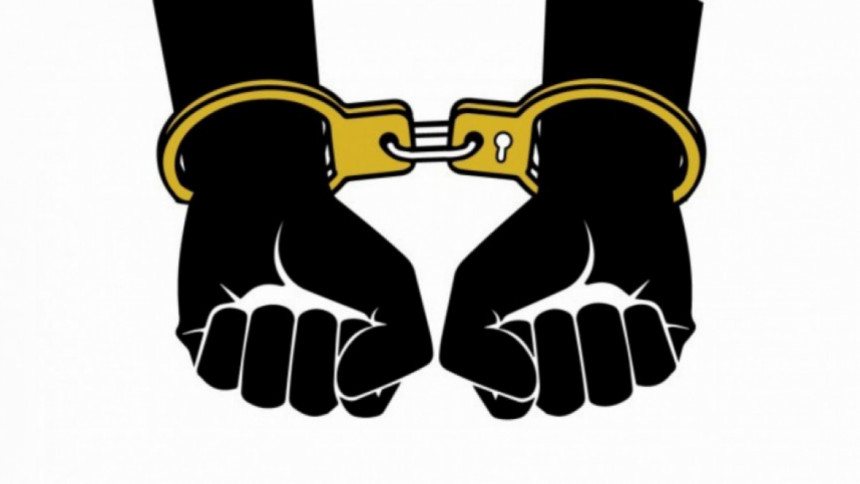 The gang even posted phone-sale advertisements on online platforms and charged Tk 5,000 to 10,000 for a phone. If they ever failed to break a phone's lock or change IMEI, they would destroy the phone and sell parts in markets.
Aziz Mohammad was in Saudi Arabia for 33 years. As a hafez, the 45-year-old used to work as an imam at different mosques, and also as a driver.
This stint as a driver led him to a new way of making money: stealing cars. He used to target luxury cars, like those of BMW, Porsche, Jaguar and Lexus.
In 2015, however, he was arrested by police in Saudi Arabia in a car-stealing case and sent to jail for three years.
In 2018, he came back to Bangladesh and started working as a teacher in a madrasa at Cox's Bazar Rohingya camp. But he lost his job on charge of stealing a mobile phone.
Then, he went to Dhaka and started living in different messes and again got involved in stealing phones, laptops and wallets.
On March 23 this year, Kamalapur Railway Station Manager Masud Sarwar was addressing the media on train tickets ahead of Eid. At the time, two phones, a wallet and Tk 45,000 were stolen from his office table.
While investigating the incident, police's Detective Branch (DB) found Aziz's involvement. He was then arrested on Tuesday. During primary interrogation, Aziz admitted that he stole the belongings and fled.
Mashiur Rahman, deputy commissioner of DB (Gulshan division), who supervised the investigation, disclosed the findings to The Daily Star yesterday.
Detectives also managed to arrest two of his associates, Rony Howlader (40) and Jakir Hossain (25), on Tuesday. On information from arrestees, DB later recovered around 17 stolen phones from the capital's Kamalapur and Gulistan.
Arrestees told detectives that it hardly took them four to five seconds to steal a phone from someone's pocket, said DC Mashiur.
Investigators said Rony used to sell the stolen phones to Jakir for Tk 1,500 to 1,800.
Jakir then kept those phones switched off for some days. Later on, he would change their IMEI numbers and sell them in different locations of the capital, said the officer, quoting arrestees.
The theft gang even posted phone-sale advertisements on different online platforms and charged Tk 5,000 to 10,000 for a phone. If they ever failed to break a phone's lock or change IMEI, the gang would destroy the phone and sell parts in different markets.
Regarding Aziz, DC Mashiur said he has been involved in stealing phones and other valuables for the last three years in Dhaka. His target areas were Dhaka Medical College, Kamlapur Railway Station, TSC, Nagar Bhaban, Gulistan, Dhanmondi lake and Jatrabari.
"The syndicate used to steal at least eight to 10 phones a week," said Mashiur.
Detectives said Aziz was arrested just three months back for stealing a laptop from a shop in the capital's Baitul Mukarram market.
The shop authority then handed him over to police, and he was sent to Keraniganj central jail. He, however, managed to get free and got involved in the same crime.
After interrogating the arrestees, detectives got a list of around two dozen people who were involved in stealing valuables at Kamalapur Railway Station.
"We are trying to locate other associates of Aziz, and a drive is underway to arrest them," said DC Mashiur.