Horse-drawn plough piques interest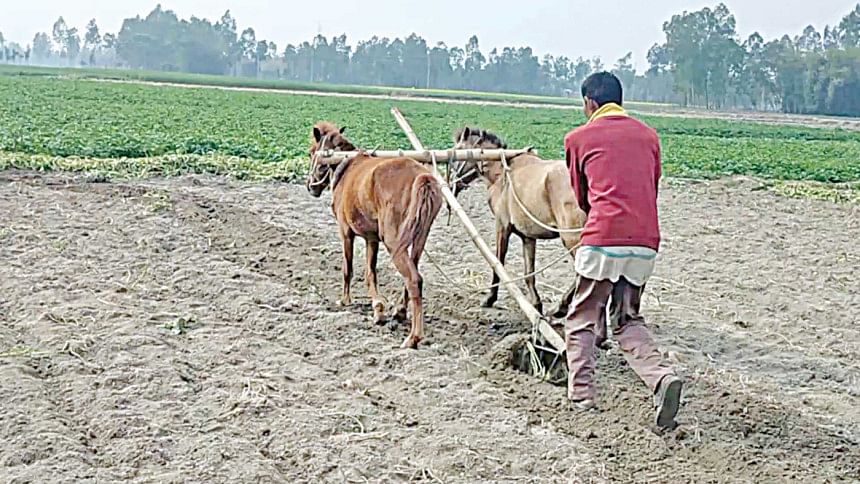 In recent weeks, people have witnessed a curious sight unfolding in a farm in Dhondogaon area of Thakurgaon.
Two horses, and not two bullocks or buffaloes as has been the age-old custom, were tied to a yoke to plough the field.
Although the sight is an unusual one, this method of ploughing his potato field is proving to be a financially fruitful one for 45-year-old farmer Bhushan Barman.
This correspondent visited the village to see the farmer till the land with his horse-drawn plough near his house.
A smiling Bhushan said he bought the two horses from Panchagarh's Atwary Rush Mela about two and a half months ago for Tk 21,000.
He said it costs almost Tk 1 lakh to buy two medium-sized bullocks suitable for ploughing.
The cost to feed a pair of bullocks is higher, Bhushan said, adding that a horse-drawn plough is also much faster.
It is easy to plough one and a half acres of land in a day from 8:00am to 1:00pm, Bhushan said.
At present, after Bhushan ploughs his 50 decimals of land with his horses for late potato cultivation, he ploughs other farmers' lands for a fee. He has already ploughed about seven and a half acres of land and earned Tk 17,500.
He also has off-season plans for a horse-drawn carriage for rent.
Since the introduction of motorised farming equipment, however, the use of animals in this rigorous activity has been discouraged. District Livestock Officer Abul Kalam Azad said as employing horses in cultivating land is not common in the country, it is discouraged.
But Abu Hossain, deputy director of Department of Agricultural Extension in Thakurgaon, said traditional ploughs drawn with domestic animals are a good option for poor farmers.