Health hazards stalk female tea workers
Women tea workers not only play a vital role in their industry, they're also the rocks of their family's economic fortunes. But for all the work that they do, they are plagued by malnutrition, stigma, financial uncertainty, lack of awareness regarding gender issues and lack of hygiene.
To add to this is the persistent culture of early marriage and the pressure to have more children. As a result, both the workers and their children are left with various physical complications, including malnutrition and anaemia.
Kajol Roy works at a tea garden at Rajnagar upazila of Moulvibazar. "I have four daughters but no sons. My husband keeps rebuking me over this, as if it's my fault," she told this correspondent recently.
According to a survey conducted by Unicef and Bangladesh Bureau of Statistics (BBS) on tea gardens across Sylhet division, 46 percent of adolescents in the gardens are victims of child marriage, while motherhood before the age of 18 stands at 22.2 percent. The survey was published in late 2019.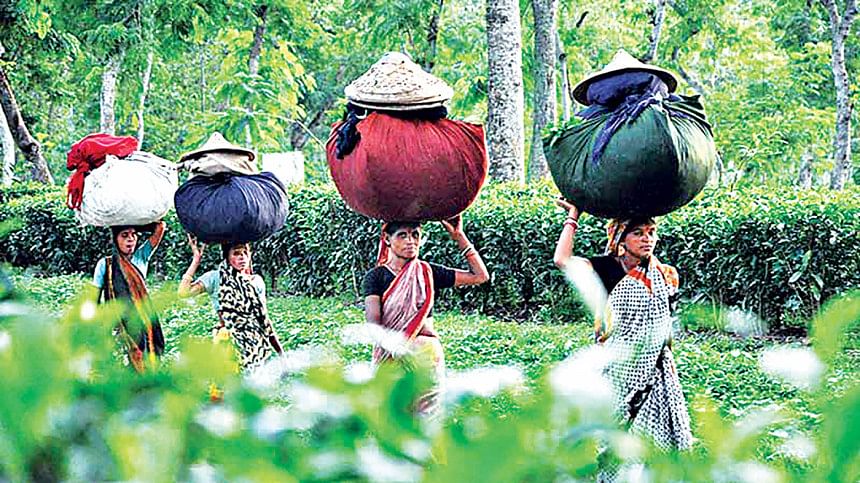 Meanwhile, another survey, funded by UNFPA and conducted by the National Institute for Health Development and Research, Centre for Injury Prevention and Research (CIPRB) and Ministry of Health, revealed that 15 percent of female tea workers have been diagnosed with cervical cancer.
The survey was conducted among 3,000 female workers of 10 gardens in Moulvibazar, of whom 519 tested positive for incurable cervical cancer, said CIPRB District Coordinator Altafur Rahman.
Nighat Sadia, director of Usha, a volunteer organisation working with teenagers and children in the tea gardens in Sylhet, said, "Child marriage is the norm for most tea workers. They're married off at an early age due to lack of security, poverty, prejudice and illiteracy. As a result, they become mothers at a young age, which throws both mother and child into malnutrition as there's a lack of nutritious food due to their low incomes."
Tea worker Mira Hazra (40) has three daughters and one son. "Every time during pregnancy, the midwife gave me two iron tablets and advised a diet consisting of vegetables, eggs, fish and meat. But how do I get all that with my meagre income?"
Gita Rani Kanu lives in Kurma Tea Garden in Kamalganj upazila of the district. She is also the convener of Bangladesh Tea Workers Women's Forum. She said, "The reproductive health of mothers in tea gardens is very fragile, due to a lack of family planning and hygiene. The garden dispensaries have people who provides paracetamol and iron pills to the workers, but that's it."
"If a tea worker needs to go to hospitals outside the gardens, they have to sell their assets or take loans from NGOs. This often compels them to avoid outside hospitals considering the cost."
Pankaj Kanda, vice president of Bangladesh Tea Workers Union's central committee, said the medical system at the tea gardens is weak. "They don't conduct regular check-ups after pregnancy. Meanwhile, there's a lot of superstitions prevalent too, for example some mothers don't want to go to hospitals during delivery."
However, Golam Mohammad Shibli, chairperson of owners' platform Bangladesh Cha Sangsad, Sylhet chapter, denied this and said, "The female workers get what they're supposed to as per labour law. The tea gardens have hospitals, doctors, nurses, midwives as well as delivery services. But stigma and lack of awareness remains, which is why many don't avail these services, leading to unfortunate situations. However, the scenario has gotten better over the years."
Dr Mohammad Noore Alam Shamim, Assistant Director (Disease Control) of department of Health in Sylhet said, "Due to the high prevalence of maternal death, infant mortality, neonatal death, abortion and miscarriage in the tea gardens, the average figures throughout the division has increased."
If the relevant SDGs are to be achieved, focused work at the tea gardens must be increased, he added.
According to the Statistical Handbook on Bangladesh Tea Industry 2020, there are 166 gardens in the country, employing a total of 1,40,164 tea workers. In three districts of Sylhet division, there are 135 tea gardens where 46,450 registered female workers and 15,153 casual female workers work, while another 500,000 people are dependents of these workers.