Focus now on food industry to boost export: PM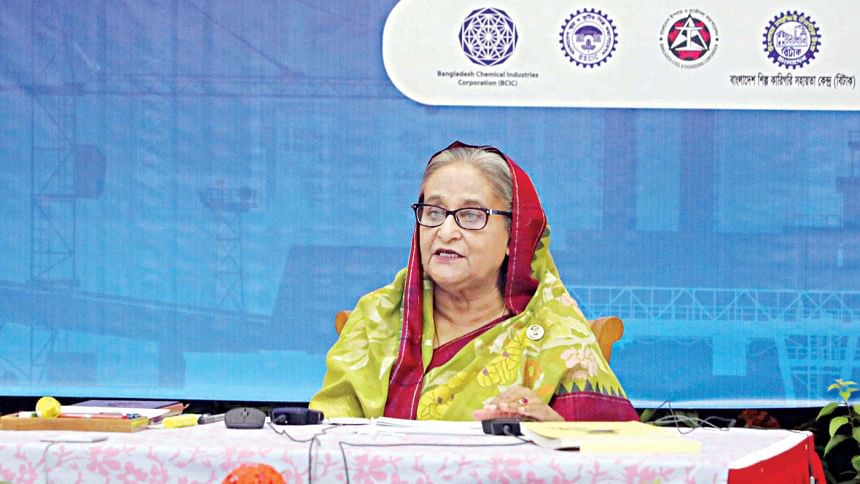 Prime Minister Sheikh Hasina yesterday said her government is prioritising the food processing industry to boost export of food items alongside meeting the growing domestic demand.
The prime minister said this while laying the foundation stone of "Ghorashal Palash Urea Fertilizer Factory" in Narsingdi, with an annual production capacity of nearly 10 lakh tonnes, the country's largest.
She unveiled the foundation stone of the Tk 10,461-crore project, joining a programme from Gono Bhaban through a videoconference.
Besides, the PM opened four other development projects, including the newly constructed 14-storey head office of Bangladesh Small and Cottage Industries Corporation (BSCIC) in the city's Tejgaon industrial area.
Hasina said the government is paying special attention to the development of the agro products and food processing industry as Bangladesh has gained a huge success in agricultural production.
Talking about the urea project, she said they took initiative to set up a new high-capacity, state-of-the-art, energy-efficient and environmentally friendly new fertiliser factory on the site of two old urea fertiliser factories at Ghorashal and Palash in 2014. 
The new factory can produce some 2,800 tonnes of granular urea fertiliser a day. The PM extended her thanks to the Japanese and Chinese governments for providing loan assistance.