Fears of diseases grow as waters begin to recede
Over 36,500 families affected in Ctg floods; roads to 3 upazilas in Bandarban still closed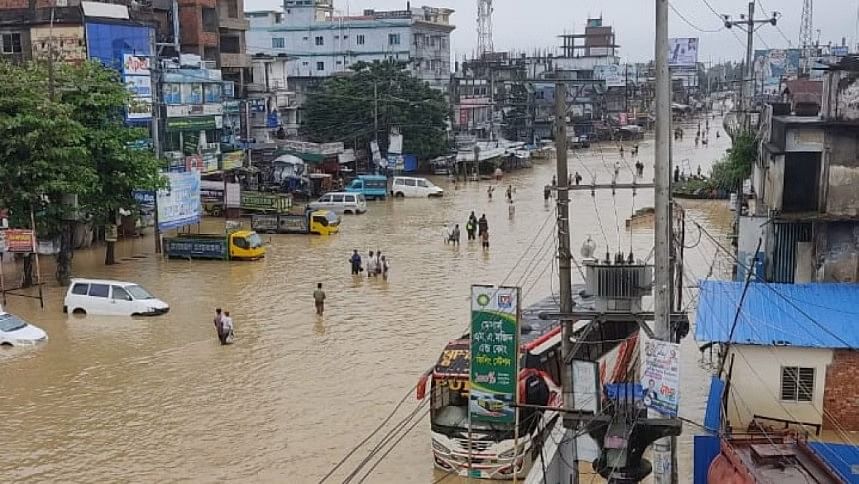 The spread of water-borne diseases is now a major concern in Chattogram where receding floodwaters are revealing a trail of devastation.
Thousands of residents have been left without access to safe water, and an increased occurrence of diarrhoea, jaundice, typhoid and skin diseases may be imminent, health experts say.
"Between two and seven days after a flood, people usually get the symptoms of water-borne diseases," said Abdur Rob, associate professor of medicine at Chittagong Medical College.
People who got wet in floodwaters are also at risk of developing skin conditions, according to Barnali Barua, assistant professor of dermatology at the college.
Over 36,500 families have been affected by the flood in Chattogram, said administration officials.
At least 16 people had drowned in floodwater in Chattogram, said Saifullah Majumder, the district relief and rehabilitation officer.
Due to incessant rains, different areas in Chattogram saw floods on August 4. As the heavy shower continued, much of Chattogram division came to a standstill in the following days.
Meanwhile in Bandarban, roads to Lama, Ruma and Thanchi upazilas are still closed because of mudslides.
Residents are still left without safe water, electricity, and cellular networks.
But rapid erosion of the banks of the Sangu river, which flows through Bandarban town, is wreaking havoc in several neighbourhoods.
A two-storey building and seven small houses crumbled into the river in the last two days. Besides, over 100 huts on the banks are still under water, reports our correspondent in the district.
Officials have asked residents of Ujani Para, Madham Para, Marma Bazar, Barishailla Para, Puran Bridge Para, Islampur and anybody who lives on the banks of the Bokshi Khal not to return home because of the risks of erosion, said Purnochandra Mutsuddi, assistant director of the fire service office in Bandarban.
At least 50 huts and buildings may get washed away by the river anytime, said officials.
Mudslides killed at least 10 people and affected around 75,000 in Bandarban Sadar upazila, according to the district administration.
The floods have also damaged 8,253 hectares of farmland, officials said.
The residents of Bandarban town were still dependent on dry food and safe water provided by different government agencies yesterday as access to drinking water had not been restored.
DISEASE OUTBREAK LOOMS
In Chattogram's Satkania upazila, Sarwar Uddin Ahmed, former union parishad chairman of Amilaish Union Parishad, said many children and elderly in the area had contracted cold-related diseases.
Abdullah Al Noman Begh, former chairman of Dohazari Union Parishad in Chandanaish upazila, said people of his community were already suffering from diarrhoea, stomach problems and skin diseases.
Afrin Sultana, emergency medical officer at Satkania upazila health complex, said most of the people arriving at the medical facility over the last few days had injuries they received when they tripped over something on flooded streets.
Chattogram Civil Surgeon Ilias Chowdhury said health workers had the necessary preparations in case there is an outbreak of waterborne diseases.
RANGAMATI
At least 69 primary schools, and over 39,000 people in 199 villages had been affected by the flood in four upazilas of the district, officials said.  
Deputy Commissioner Mosharraf Hossain Khan said 380 tonnes of rice and Tk 7 lakh were distributed among residents of the town. But officials have not been able to reach the remote areas.
The extent of damage to lives and property in several upazilas remains unknown, officials said.
COX'S BAZAR
Fazlul Karim Saidee, chairman of Chakaria Upazila Parishad, said paddy and rice stored in people's houses had been almost completely ruined.
Besides, villages in Shaharbeel, Badarkahli, Konakhali and Demusha unions are still flooded, he said, adding that hundreds of residents were living in shelters for over five days, and they were solely dependent on relief provided by the government and NGOs.
Earthen houses that are common in Chakaria have been washed away or damaged beyond repair in most villages, said Helal Uddin, chairman of Fasiakhali Union Parishad.