Hunger, diseases plague infants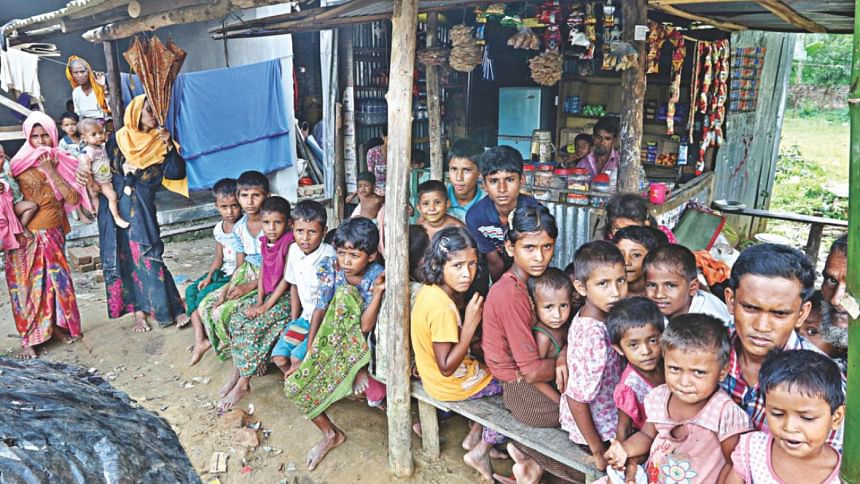 On Friday noon, Asia Begum stood under the scorching sun, waiting by the roadside at Kutupalong for relief. She looked pale and tired. Her seven month old son, Yasin, tightly clung on to her arm.
Arriving after a three day trek from Maungdaw of Rakhine 13 days back, Asia has spent almost every day here getting soaked in the rain.
Now, she has to come out and wait under the sun for food.  In the mean time, her son has been suffering from fever for the past three days.
"There is no food. My son is not eating properly. I can rarely breastfeed him," said Asia on Friday noon, a blank look across her face. She had gone to a medical camp the day before where doctors provided her with some medicine but Yasin's condition is not improving.
"I am concerned about my son," said Asia, 20, who managed to make a temporary home using plastic sheets and bamboo sticks in Kutupalong of Ukhia. "The plastic cannot protect against the heavy rain," she added.
Yasin is one of 33,000 infants (aged less than a year) among the 429,000 Rohingyas who fled violence in Myanmar's Rakhine state since August 25, according to the Inter Sector Coordination Group, a coordinating body of the UN agencies, an estimate shared by other national and international NGOs working on the Rohingyas.
Despite efforts by the government, UN agencies and NGOs, the refugees have been suffering from acute shortage of food, drinking water, latrines and medicine owing to the sudden large influx in such a short period.
Apart from housing and food scarcity, diseases have become a common problem. Fever, cold, pneumonia, diarrhoea are widespread. Open defecation in the settlements is adding to the problem.
International humanitarian group, Doctors Without Borders, feared there might be a public health emergency under such circumstances. Physicians say that while the adults may withstand certain shocks, it will be very difficult for the children, especially infants.
 Nutritionists and child specialists say the infants who are going through these adverse conditions in the Rohingya settlements face serious risks of severe acute malnutrition (SAM) and physical and mental impairment in the future.
Dr Tahmeed Ahmed, senior director of nutrition and clinical services at icddr,b, said the infants who are born in the Rohingya camps in Cox's Bazar or in Rakhine before fleeing to Bangladesh will face serious malnutrition in a few months.
"There are high risks of mortality among these infants if they are affected by diseases like diarrhoea or pneumonia," he said. Even if they survive, their brains may not  develop normally, as the lactating mothers are not having proper food and may not be filling the nutritional requirement of at least 2100 kilocalories, including enough proteins.
The early months are the most important period for brain development, Dr Tahmeed Ahmed noted. On the other hand, these infants will also not develop a strong immune system, which means any disease will affect them very fast, he told The Daily Star.
In the absence of clean drinking water, sanitary latrines, adequate hygiene practices and good shelters, coupled with changing weather patterns, it is very likely that these infants will be affected by cold, fever, pneumonia and diarrhoea.
Another physician, who works for an international NGO and is visiting the Rohingya camps in Cox's Bazar, said all the Rohingyas faced serious physical and mental trauma before fleeing their homes.
They saw their houses burning and relatives tortured or killed, he said, adding: "Imagine [the condition of] the children and pregnant women who witnessed those incidents. Then, they walked for days to reach Bangladesh, traversing through hills, jungles and rivers, all the while starving."
And, after arriving in Bangladesh, these pregnant or lactating mothers are experiencing a very adverse situation. Under such circumstances, mothers are not going to give birth to a strong, healthy baby, he said.
"Lactating mothers need special food – protein and rich in iron. Rohingya mothers are not getting that food," the physician said. Without that, their babies are also not getting enough nutrition.
If this continues for six more months, they will face acute malnutrition that will lead to physical and mental difficulties, he added.
Dr Tahmeed Ahmed of icddr,b suggested arranging supplementary food and necessary vaccination for the infants and the lactating mothers.
The influx began on August 25 following a major Myanmar military crackdown. According to a recent AFP report, the number of people coming into Bangladesh has decreased. "Almost all the people I know have arrived in Bangladesh," Yusuf Majihi, a Rohingya leader at a camp in Balukhal, near Cox's Bazar reportedly told AFP.