Father fulfils 7-year-old boy's wish to see Padma Bridge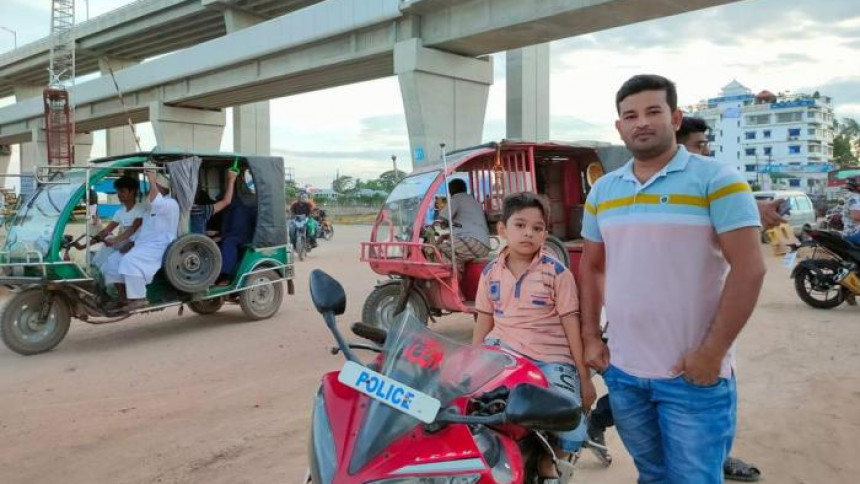 Seven-year-old Ejazul Haque has been longing to visit Padma Bridge ever since the construction of the megastructure was completed.
As the nation is set to formally open the Padma Bridge tomorrow, Ejazul started crying this morning to visit the bridge.
The boy's father Md Suman Mahmud, a police constable stationed at Palang Police Station in Shariatpur and resident of Abdullahpur area in Dhaka's Keraniganj, finally fulfilled his wish and took him to Mawa in Munshiganj this afternoon to show him the Padma Bridge, reports our Munshiganj correspondent.
"I am very happy to see the Padma Bridge. Now I will tell my friends that I have seen the bridge," the boy told The Daily Star.
The policeman along with his son reached the Mawa crossroad in Louhajang upazila at 6:00 pm this evening. There, he took photos of his son seated on his motorcycle with the Padma Bridge in the background. They also took selfies.
"My son has watched several pictures and videos of Padma Bridge on television and on Facebook. For the last few days, he has been pleading with me to take him to visit the Padma Bridge physically. So, I brought him here to show him the bridge after crossing 27 kilometres on motorcycle. For safety reasons, we have seen the bridge from a distance but he is happy," Suman told this correspondent.
"I'm also happy to see my son happy," he said, adding that it was a great moment for them both.
"I have taken photos with my son keeping the Padma Bridge in the background. I will upload this photo on Facebook," he said, adding that he would not be able to attend the grand opening due to work.