Media employees bill: Make it journo friendly
Journalist leaders give amendment proposals to info minister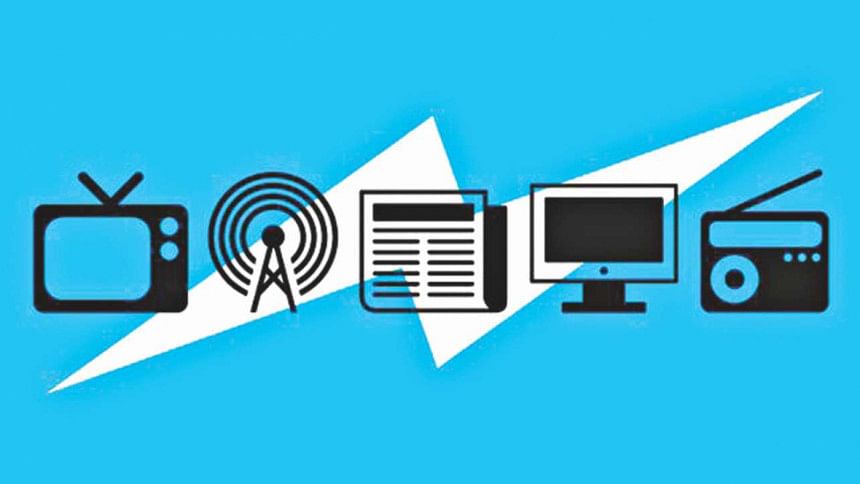 Leaders of different journalist organisations yesterday demanded the government bring several changes to the Mass Media Employees (Services Conditions) Bill-2022, including dropping the provision of setting up mass media court, to make the proposed law journalist friendly.
Leaders of Bangladesh Federal Union of Journalists (BFUJ), Dhaka Union of Journalists (DUJ), Dhaka Reporters Unity (DRU), Television Camera Journalists Association (TCJA), Dhaka Sub-Editors' Council (DSEC) and Barishal Journalist Union (BJU) came up with the demand while handing over a set of proposals on amendments to the bill to Information and Broadcasting Minister Hasan Mahmud.
The proposals were submitted to the minister at his ministry office.
The journalist leaders proposed dropping the provision for setting up of a mass media court for settlement of any dispute between owners of media outlets and employees.
Instead, they suggested that all disputes be settled by the labour court.
Speaking to The Daily Star, BFUJ Secretary General Dip Azad said, "We have proposed removing the provision for formation of the mass media workers welfare association. Instead, we have suggested including the provision for forming trade unions at media outlets."
Journalist leaders proposed to reduce the minimum weekly working hours to 40 from 48 as mentioned in the proposed law.
They also proposed two days off each week instead of existing one day.
Another suggestion was made for introducing pension for those employees who worked for a media outlet for 10 years.
Other proposals include increasing the overtime allowance for media employees and raising their retirement age to 67 from 59.
Hasan Mahmud assured journalists leaders of submitting the proposals to the Parliamentary Standing Committee on the Information and Broadcasting Ministry for consideration.
BFUJ President Omar Faruk, Secretary General Dip Azad, DUJ President Sohel Haider Chowdhury, General Secretary Aktar Hossain, DRU President Nazrul Islam Mithu, TCJA President Mahbub Alam, General Secretary Shahidul Haq Jibon, DSEC General Secretary Abul Hasan and BJU President Swapan Khandkar were present.
The information minister had placed the bill in parliament on March 28. It was later sent to the parliamentary body for scrutiny.
Different journalist platforms, media outlet owners' associations, and Transparency International Bangladesh (TIB) strongly opposed various sections of the proposed law.
The Editors' Council (Sampadak Parishad) in a statement on April 19 said the space for independent media would shrink further if the bill was passed by parliament.
"The newspaper industry is going through trying times, still reeling from the effects of the pandemic. Many daily newspapers at home and abroad have either started curtailing their print editions, or stopping their print circulation altogether," Editors' Council said.
Upon analysis of the proposed law, the council observed that 37 out of its 54 provisions were not journalist friendly.